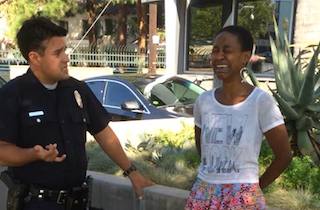 On audio obtained by — wait for it — wait for it — a little longer — TMZ and released Monday morning, actress Danièle Watts can be heard arguing with LAPD officers during her detainment over why she wouldn't hand over her identification, at one point wondering if one of the officers was "a little bit racist."
"I serve freedom and love, you guys serve detainment, that's cool," Watts is heard to say as she was released. "I hope you feel free. I hope when you're fucking your spouses you really feel alive."
Watts was detained in Studio City last week after she refused to give officers her identification, and believed she and her boyfriend Brian James Lucas had been mistaken for a prostitute and john. The LAPD said in a statement Monday that officers had responded to a call about a couple matching Watts' and Lucas' description engaged in a sex act in a car, though the pair was released without charges.
RELATED: Django Unchained Actress Tells CNN Why She Didn't Give 'Condescending' LAPD Officer Her ID
"Fifteen minutes ago I would have been gone," the officer told her, referring to her refusal to hand over her ID. "You took something that would take five minutes and made it thirty."
"This is not a problem for me," Watts replied. "What is a problem for me is that you think you're better than me. We're all equal. That's what our county is based on, the land of the free and the home of the brave."
"Do you need paramedics?" the officer asked.
Watts also pressed the officers for their full names, figuring the identification game worked both ways. "I'd like to identify you to my publicist," Watts said.
"Now you see why you're in handcuffs?" the officer replied.
Listen to the audio below, via TMZ:
[h/t TMZ]
[Image via screengrab]
——
>> Follow Evan McMurry (@evanmcmurry) on Twitter
Have a tip we should know? tips@mediaite.com