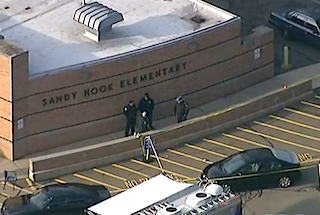 On Wednesday, December 4th, nearly one year after the mass shooting at Sandy Hook Elementary School in Newtown, Connecticut claimed the lives of 26 people, including 20 small children, portions of the 911 calls from the event have been released. Local authorities had tried to block the release of the tapes, with the aim of protecting the families affected from reliving the tragic events of that day on December 14th, 2012.
Last week, a Connecticut Superior Court judge upheld the Connecticut Freedom of Information Commission's ruling to release the 911 call audio pertaining to the Newtown shooting, which is expected to include seven calls from inside Sandy Hook Elementary School to Newtown police.
In the tapes, terrified callers can be heard telling police about the ongoing shooting situation. "I caught a glimpse of somebody. They're running down the hallway. Oh, they're still running and still shooting. Sandy Hook school, please," one woman said.
In another call Sandy Hook Elementary School custodian Rick Thorne pleads, "There's still shooting going on, please! Still, it's still going on!"
The Associated Press had petitioned for the release of the tapes. "We all understand why some people have strong feelings about the release of these tapes. This was a horrible crime," AP executive editor and senior vice president Kathleen Carroll said. "It's important to remember, though, that 911 tapes, like other police documents, are public records. Reviewing them is a part of normal newsgathering in a responsible news organization."
The families of the victims have been divided on the decision to either release or seal the audio. On one side, Cristina Hassinger, who lost her mother, Sandy Hook Principal Dawn Hochsprung in the shooting, expressed support for the release in comments to the Connecticut Post. "I'd rather have more information about what happened that day," she said. "The more information I have, the easier it is to wrap my brain around."
On the other side, Dean Pinto, whose 6-year-old son, Jack, died in the shooting, has argued strongly against the release. "While our Freedom of Information laws may have been adequate in a world where only the mainstream media disseminated information, that is simply no longer the case," he wrote to the Task Force on Victim Privacy. "Today, anyone with a computer can have a broader audience than your local newspaper, and decency and discretion seem to be unrecognizable concepts."
The Newtown Bee newspaper has argued that transcripts of the calls, and not the audio, should satisfy those looking for more information on the shooting. "We acknowledge the right of the Associated Press and other news organizations to review the content of the calls as a means of examining the response by law enforcement to our most dire calls for help," the Bee wrote in an editorial. "But transcripts and timelines should suffice. What purpose does it serve to record and disseminate the anguished cries of those reporting violent murders they have just witnessed, or even sounds of continuing gunfire? It serves morbid interests, not public interests."
Listen to the full released audio below, at your own discretion, via New Haven Register:
[photo via Wikimedia Commons]
— —
>> Follow Matt Wilstein (@TheMattWilstein) on Twitter
Have a tip we should know? tips@mediaite.com