Lit Agent Drops Juror B37 After Social Marketing Campaign, Twitter User 'Cocky McSwagsalot' Wins Internet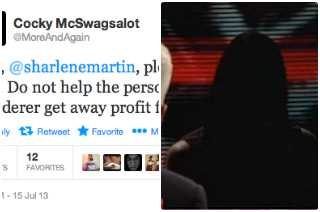 In a statement early Tuesday, Juror B37 announced she had reneged on her plans to write a book with her attorney husband, less than twenty-four hours after signing with a literary agent. This writer speculated that her agent, who'd made a major acquisition in so swiftly nabbing a sure bestseller, must be mighty upset over having a marquee deal yanked out from under her.
It turns out that her agent, Sharlene Martin, was the first to have a change of heart, following hours of social media pressure shaming Martin over a book contract that seemed to be exploiting Trayvon Martin's death for publishing profits.
A Twitter user going by the handle @MoreAndAgain and the name "Cocky McSwagsalot" started the campaign while watching Juror B37's interview with Anderson Cooper, in which the anonymous juror claimed George Zimmerman's "heart was in the right place," among other odd interpretations of a man shooting an unarmed seventeen-year-old.
@MoreAndAgain began tweeting at Martin: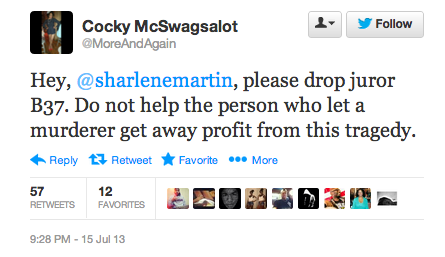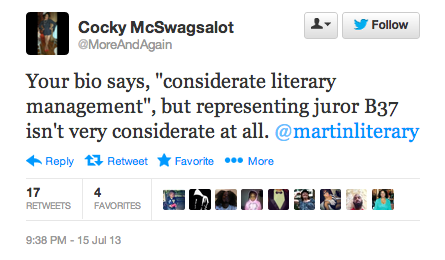 And then, to those who were expressing support: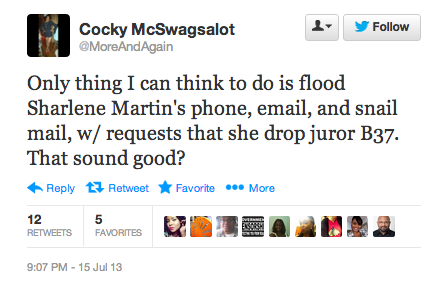 @MoreAndAgain's Change.org petition quickly garnered over 1,000 signatures—1/1000 of a roomba-riding cat, but apparently enough to give Martin a taste of what was coming were she to continue with the distasteful project. At 1:00 a.m. Martin DMed Cocky—I've always wanted to write that clause—that she had reconsidered the signing: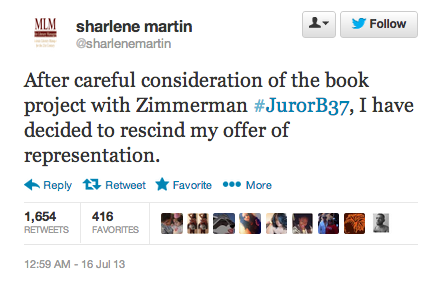 Cocky soon got Twitter praise from Questlove, and a glimmer of power at a time when so many are feeling powerless. At least one small aspect of this awful story has a happy ending: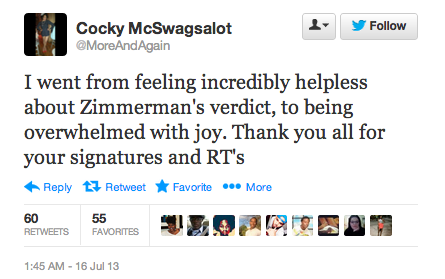 [h/t Uproxx, Ebony, @jaykirell]
—
>> Follow Evan McMurry (@evanmcmurry) on Twitter
Have a tip we should know? tips@mediaite.com