Liz Smith: Marlo Thomas Drags 'Em In and Fabulous Women Party: Nora Ephron, Elaine May and Lee Grant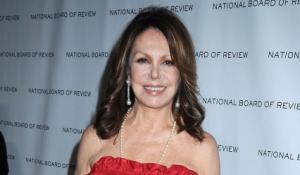 "WENT to a mah-velous party!" as Noel Coward once opined.
Well, in this day and age, such a party is a far cry from the long-ago '20s when there were mah-velous parties everywhere. Nowadays any get-together is a solid hit if it boasts big names, has good cocktail food and the centerpiece (host/hostess) is someone of distinction for whom you don't mind coming out on a rainy night.

***
Our person of distinction last Monday night was none other than that showbiz dynamo, Marlo Thomas, a favorite of Hollywood showbiz royalty, the daughter of the famous comic Danny Thomas and herself the star of one of the greatest first liberated women comedies ever to reign on TV – "That Girl" (circa mid-1960s)!
But even that TV hit was long ago and Marlo has never rested on her laurels. She went on through the years, acting … she married that forerunner of ideological thinking, the maestro Phil Donahue … she kept on producing, writing, creating and became a phenomenon in the charity world. She has raised millions and millions of dollars for the famous St. Jude's Children's Hospital in Memphis, which never turns away a sick child.
***
THIS VERY week, Marlo drew a crowd of big names even though she was hosting what is known as "a book party." (And we all know what we think about that particular P.R. process.) But in this case it transcended the genre. Held at Caroline's fabulous downstairs comedy club right in the heart of Times Square on Broadway, it boasted great cocktail food and a crowd distinguished by five-star names.
First I saw two women I most admire in the comedy genre – Nora Ephron, my longtime friend from the days of cooking in the Hamptons and reporting for newspapers/magazines. She is now a distinguished writer of plays, comic bestsellers, movies and what's more; she is that rare thing – a successful female movie director. (What a life our Nora has led!)
Second, there was Elaine May, the enigmatic creator of the (Mike) Nichols and May comedy team, and a writer extraordinaire of everything she has bothered with since. One of the most delightful, puzzling and unorthodox females on the globe. Not like anybody else.
The once radio name/standup comic Joy Behar, now the rising feisty star of her own talk show and "The View," was doing honors as one of the hosts of this gig where Marlo was telling us about her new book, a part memoir and part examination of the funny geniuses of the 20th century. (Maybe some of them slipped back from the 21st century.) The book is titled Growing Up Laughing: My Story and the Story of Funny. (No, it's not "the Story of Being Funny but The Story of Funny.)
In the preface, Marlo has written something so great that I am loathe to ruin it for you by repeating it. Suffice to say she recalls a child's view of a funeral car leading a parade of mourners and a child's view then of the second car, full of brokenhearted mourners. Well, I guess you have to read it for yourself. (The rest of Marlo's book concerns the famous, funny comics of the world giving her their jokes, japes and remembrances. Seinfeld, Alda, Tomlin, the works! It's great.)
In the crowd, I got to speak to one of my favorite people in the entire world, the writer Nick Pileggi, to ask what he thought of GQ's verdict this month that his 1990 film, directed by Martin Scorsese and titled "Goodfellas," is the greatest mob story ever written, better than "The Godfather," "Scarface" and all that genre. Nick shrugged but seemed delighted.

Liz Smith's column can be read in its entirety at Wowowow and is excerpted here under an agreement between Mediaite and Wowowow.
Have a tip we should know? tips@mediaite.com