Report: Jerry Sandusky Investigated For Allegedly Pimping Boys To Rich Donors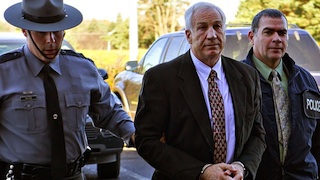 The horrible Penn State child rape scandal is one of the worst stories the sports world has ever seen, one that involves some of the most heinous crimes imaginable as well a disturbing desire to brush them under the rug. However, a rumor is now surfacing that could make things even worse. Mark Madden, a local sports writer for the Beaver County Times, said on a radio show this morning that he had heard that a new development was going to break and that it involved the man at the center of the scandal, Jerry Sandusky, "pimping out" young children to "rich donors" of his Second Miles Foundation for troubled kids.
Madden discussed the rumor this morning when calling into Boston's Sportsradio WEEI.
Now, in situations like these, rumors run rampant, so why is this one getting reported on before any facts have come out? And then why are we amplifying it? Wel,l for starters Madden was one of the first people to write about an apparent child rape cover up at the university. More importantly, he wrote about it seven months before the rest of the country heard about it.
With that said, this is different. As he explained to the radio hosts, all the information was publicly available and he was just smart enough to see that it potentially spelled huge trouble for the school. From his own description, that seems different from how he discovered this new rumor so his earlier seeming-clairvoyance on the subject might not be any reason to believe this is any more than that, a rumor.
Still, Madden now has a proven track record and this is easily the biggest story in the country so expect this rumor to get a full investigation. Unlike, unfortunately, the original rape allegations.
Listen to the allegations below, courtesy of WEEI:
(h/t Business Insider)
Have a tip we should know? tips@mediaite.com