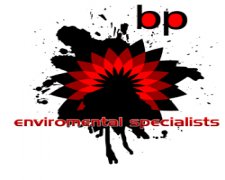 Exxon must be thanking their lucky stars that the internet wasn't popular when the Valdez crashed back in 1989. While the fake BP public relations Twitter page continues to spew hilarious bile, the rest of the internet has joined them in making British Petroleum the web's favorite online punching bag. The latest site to lace up their gloves is LogoMyWay, a logo design site which is holding a contest for users to create a new logo for the company. The submissions so far have been unsurprisingly harsh.
Here is the description of the contest's rules from LogoMyWay:
"What We Do: Help Redesign BP's logo! They need a NEW Brand.

I cant tell you how frustrated and upset we are about BP and how they are handling this oil disaster. Before this eruption of oil they had 17 violations. It's obvious this could have been prevented.

This is probably the biggest environmental disaster we have ever faced in this country.

I think the creative designers at LMW should update the BP logo with a more suitable design.

The design community and the general public will vote on the winner of the redesign of the NEW BP LOGO.

Industry Type: Natural Resources
Top Three Things to Communicate Through Our Logo Design:
#1 Oil spill disaster – Toxic
#2 Death of wildlife
#3 Incompetence"
As you can imagine, the submissions so far have featured plenty of oil blotches, dead animals, and the spikes of BP's typical logo twisted into satanic horns. One even turns the pronunciation of the company's acronym literal with a cartoon of a bee peeing (shocker, he's urinating oil).
In the virtual world, BP has become a virtual pariah. Besides this contest and the aforementioned Twitter page, one only needs to look at the top headlines on Reddit to see the hatred that the online community is feeling towards the company. It's not surprising. The internet is a divisive place (just look at our comments), so people are always looking for someone or something that everyone can hate equally. A giant oil company that has contributed to the destruction of an entire ecosystem is an easy choice.
So congratulations, BP. Now that Spencer and Heidi have broken up, you're the most hated thing on the world wide web. If I was an exec over there, I would delete the Google Alert for my name.
(h/t Inhabitat)
Have a tip we should know? tips@mediaite.com