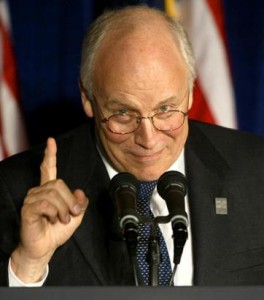 It's a bit of an understatement to say that British Petroleum has a bit of a public relations problem right now. Every day it seems like there's another story about a BP exec being grilled on cable or an internet campaign mocking them (those stories are just from the past few hours). To help stem the tide of bad press, BP has hired Anne Womack Kolton, former spokeswoman for Dick Cheney. With the oil spill only getting worse, it's a bright idea for BP to hire someone from the Cheney team. After all, he is the guy who got away with shooting a friend in the face.
Womack Kolton was the head of public affairs at the Department of Energy and, in 2004, was the press secretary for the former Vice President. Raw Story has a description of her time with Cheney:
While at Cheney's side, Kolton defended the secrecy of the Vice President's Energy task force, a group which held secretive meetings with energy company executives. When the General Accounting Office — the research arm of Congress — sued the Administraton for records relating to Cheney's meetings, Kolton (then Womack) was at his side.

"We are ready to defend our principles in court," she said. "This goes to the heart of the presidency and to the ability of the president and vice president to receive candid, discreet advice."

A blogger at the liberal web site Daily Kos notes that BP was reportedly among one of the companies that Cheney met with.

In 2004, Womack Kolton also drew attention from the left after Cheney made comments suggesting a Democratic victory would precipitate a terrorist attack.

"Whoever is elected in November," she said, "face[s] the prospect of another terrorist attack. The question is whether or not the right policies are in place to best protect our country. That's what the Vice President was saying."
As BP's shares plunge and court trials loom in the future, Womack Kolton has her work set out for her. Plugging up the leak of bad press for BP seems as hard as pluggin up the leak of…something. Gee, is there any good way to end that metaphor?
Have a tip we should know? tips@mediaite.com