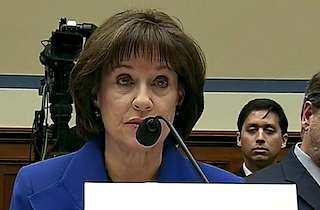 "I didn't do anything wrong. I'm proud of my career and the job I did for this country."
Thus sprach Lois Lerner, the embattled former IRS official around whom the IRS scandal, pseudo- or otherwise, has coalesced, in her first interview since the beginning of the controversy a year and a half ago.
In an exclusive two-hour interview with Politico, flanked both by her husband and her attorneys, Lerner defended her career at the IRS and presented herself as a passionate civil servant who's become a scapegoat, a role that has prohibited her from finding other employment.
"I was the person who announced it," she said, explaining why she was chosen as the face of the scandal. "I assume the other part of it is because I declined to talk, and once I declined to talk, they could say anything they wanted, and they knew I couldn't say anything back."
RELATED: Lois Lerner Called Conservative Radio Hosts 'Assholes' in Emails to Friend
Politico's Rachel Bade talked to former coworkers and employees who painted Lerner as both a politically-minded person quick to anger and a generous boss who's ideology was her job.
As for those missing emails, Lerner dismissed the idea of premeditated cover up out of hand. "How would I know two years ahead of time that it would be important for me to destroy emails, and if I did know that, why wouldn't I have destroyed the other ones they keep releasing?" she asked.
[h/t Politico]
[Image via screengrab]
——
>> Follow Evan McMurry (@evanmcmurry) on Twitter
Have a tip we should know? tips@mediaite.com