Lyin', Tigers, And A Bear, Oh My: Sarah Palin Hits Back At Game Change With New Ad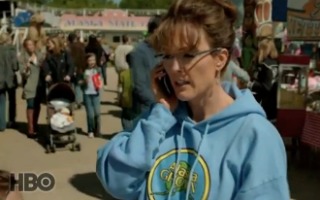 Sarah Palin, never forget, is hitting back at HBO's Game Change with a "movie trailer" of her own.
The HBO television movie, you'll likely recall, is based on the bestselling book of the same and offers a rather dramatic look at the 2008 presidential race, focusing particularly on then-GOP candidate John McCain and, of course, on the Alaska governor he plucked out of relative obscurity to become his running mate. The movie's trailer included lots of sighing and nervous breakdowns and general flailing about — basically, the sort of things that can make for compelling entertainment, whether or not they bear any semblance to real events.
RELATED: Palin Reacts To HBO Movie About 2008 Campaign: 'Based On A False Narrative'
Palin has been very open about her issues with the movie, telling Fox News Sunday that it is based on a "false narrative," but adding that she's "not too concerned" about it overall. Then… why this ad? Were there really viewers out there who thought the movie was a straightforward documentary rather than a stylized look at recent history for the sake of entertainment?
My questions to you, then, are whether 1) it was necessary for Palin to offer this form of defense against the movie and whether 2) this isn't solely a case of preaching to the converted.
Although… that roaring bear at the end of the ad makes it totally worth it, no matter the motivation for running it.
Have a look, and let us know what you think:
h/t Death & Taxes
Have a tip we should know? [email protected]