Macy's Resists Call To 'Dump [Donald] Trump,' Petition Surpasses 600K Signatures
Macy's Resists Call To 'Dump Trump,' Petition Surpasses 600K Signatures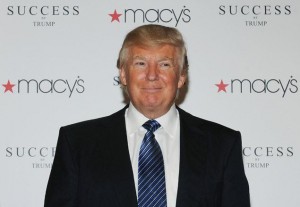 A petition to urge Macy's to drop its association with Donald Trump has surpassed 600,000 signatures — but the retailer hasn't budged, arguing that the store's offerings in no way reflect any political positions. And the opinions of those behind the merchandise are unrelated to their business with the company.
The petition began with Angelo Carusone, 30, who is a law school graduate and formerly worked for Media Matters. (Carusone is also the person behind the 2009 campaign that urged advertisers to withdraw from Glenn Beck's Fox News show.) "Donald Trump engages in especially unpleasant, nasty and despicable behavior," the petition states, going on to list his remarks about climate change, birtherism, as well as his "long record of personally attacking women he disagrees with."
It points to Macy's social responsibility policy, which speaks to the "obligation of public companies to be socially responsible to the people and communities where they do business," and succinctly urges: "Dump Trump."
"Trump's brand is consequence-free bullying. That doesn't reflect well on Macy's. People expect more from Macy's," Carusone said. "I'm more interested in what they have to say and less interested in what Donald Trump says."
Macy's spokesman Jim Sluzewski issued the following response to Bloomberg Businessweek:
"Macy's marketing and merchandise offerings are not representative of any political position. Many of the individuals associated with products sold at Macy's—or at any retailer, for that matter—express personal opinions that are not related to the merchandise we sell or to the philosophies of our company."
Macy's also disagreed with how some have interpreted one of their holiday ads, which features Trump alongside a cast of celebrities. The New York Times described it thusly:
In the most clever twist, the role of the skeptic played by Wood in the movie is assumed by Mr. Trump, who has gained notoriety in recent months for voicing skepticism about President Obama's birth certificate and college transcript. Mr. Trump is "always the one who delivers the one-liners" in Macy's commercials, Ms. Reardon said.

For example, Mr. Trump asks Gwenn, "What's with the get-up, Kris?" to which Gwenn replies, "I'm Santa Claus." Mr. Trump says, "Let me see for myself" and pulls his beard, to which Gwenn responds, "Ouch!"

The commercials end with Gwenn saying to Mr. Trump, "If I can win you over, there's still hope."
The retailer didn't agree:
"A longtime focus of Macy's holiday advertising has been to celebrate the season's spirit of generosity and goodwill through our ongoing 'Believe' campaign, and that is the sole message of our holiday television commercials."
Unsurprisingly, Trump's response — via his special counsel — was more blunt.
"What I find incredulous is that the creator of the petition is protecting his First Amendment right to free speech while simultaneously trying to impede upon Mr. Trump's," Michael Cohen told Celebuzz, also questioning the petition's "legitimacy" and accuracy. "It's ironic."
Meanwhile, Carusone's petition has upped their new goal to 625,000 signatures.
(H/T Bloomberg Businessweek)
Have a tip we should know? tips@mediaite.com