Papa John's Pizza founder and CEO John Schnatter has been making headlines this year with his one-man crusade against his customers, and now his employees, over his restaurant chain's new responsibilities under President Obama's Affordable Care Act. Schnatter has earned extra-large, stuffed-crust bad PR for his trouble, as photos of his extravagant Louisville estate have gone viral, and his company's stock price has taken a 9% dive since his latest remarks. For all of his bitching about President Obama and support for Mitt Romney, though, Schnatter's stock price was at $51.90 per share on Election Day, more than triple the $16.58 it closed with when President Obama was inaugurated.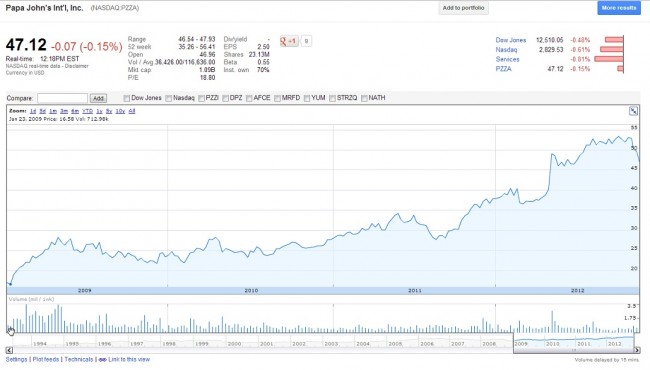 On the other hand, during the eight years of the Bush administration, Papa John's stock price leapt from $11.97 per share to $16.58, an improvement of $4.68.
Since Election Day, though, Schnatter one-upped his promise to jack the price of his 'za up by a whopping 11 cents to cover his employees' health care by explaining that his franchisees will probably cut those employees' hours to avoid that "crippling" expense. Since Schnatter opened his yap this last time, Papa John's stock has dropped $4.68, as of 2pm Thursday. That's eight years worth of Republican presidenting, gone in a matter of days.
Not helping Papa John's with investors is news of a $250 million class action lawsuit against the company for alleged spam text messages:
Last Friday, U.S. District Court Judge in Seattle John Coughenour certified the nationwide class action case against Papa John's International (NASDAQ: PZZA) for damages the plaintiffs say could reach over $250 million.

Donald Heyrich, an attorney representing the Papa John's customers, said he believes there were 500,000 text messages or more sent to customers over the span of a few years.

The plaintiffs, who first filed the lawsuit in 2010, point to the Telephone Consumer Protection Act of 1991 which could lead to a penalty of at least $500 per unsolicited telephone advertisement or texting message.
According to Papa John's, though, the texts were the result of a third-party vendor who was hired by franchise operators, not the company itself, so it doesn't sound like the strongest case against the chain. There could even be a silver lining, as Papa John's might see an improvement by putting actual Spam on its pizzas. It couldn't hurt.
Have a tip we should know? tips@mediaite.com