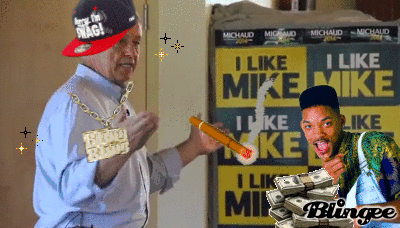 Making a rap video about a Maine Democrat running for Governor is bound to be a terrible idea, in both conception and execution, but the following video took it one step further and worked in a lyric about the GOP opponent, Sen. Susan Collins (R-ME), performing oral sex, forcing the Democratic Party to hastily disavow the song.

The video, made by Bangor Daily News blogger Alex Steed, features stock footage of candidate Mike Michaud going about his daily business, but with a rapper spitting fresh lyrics about Michaud, Paul Pierce, L.L. Bean, and Susan Collins performing oral sex at the behest of Michaud: "I'm the King of Maine, I'm the King of Maine, I've got Susan Collins giving everyone brain."
The Michaud campaign quickly asked Steed and the Knack Factory to take the video down, and in a statement to the Portland Press-Herald, denied that they had anything to do with the video and condemned its language. "We had no control over this video just like we have no control over news coverage. It's crazy," said spokesman David Farmer, adding that contrary to GOP press statements, they had nothing to do with making the video. "Mike doesn't even listen to rap."
The song is actually a real, self-deprecating song by Maine rapper Spose, who gave Steed permission to use it in his video but couldn't believe that he retained the "brain" lyric. "You really used the 'I got Susan Collins giving everyone brain' in that video !?!" he tweeted at Knack Factory. "Hahahhah woops."
For his part, Steed says he had no idea what "giving brain" meant, which, to be fair, should be expected from someone trying to make a rap video about a man running for Governor in Maine.
Watch below (the lyrics start at 1:33):
[The Portland Press-Herald]
[Image via screenshot/Blingee]
—
>> Follow Tina Nguyen (@Tina_Nguyen) on Twitter
Have a tip we should know? tips@mediaite.com