Maine Gubernatorial Candidate Finds Streaker Surprise On His Campaign Website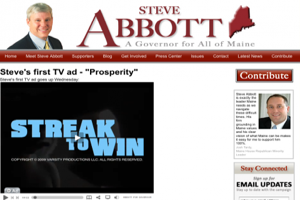 Since the relaunch of GOP.com, the Republicans have found cyberspace to be the stomping grounds of merry pranksters ready to turn any part of their web identity– from an innocent URL shortener to their personalized header— into the next big meme. The internet's latest victim is Maine gubernatorial candidate Steve Abbott, who was horrified to find his campaign ads replaced by videos of college students streaking.
The videos, part of a series called "Streak to Win" showcasing what is described as a "varsity streaking team," appeared under the title "Steve's First TV Ad– 'Prosperity'" on his website. As is expected, the chronicles of the streaking team are, for the most part, R-rated material. No one on Abbott's staff is admitting to having anything to do with the videos' appearance on the site, and the campaign's communications director is blaming the video hosting website Blip.TV for the mishap.
The Washington Independent received this response from the Abbott campaign:
"These are not our staff picks," [Abbott Communications Director Felicia] Knight said, adding that the campaign was "certainly not pleased" to find this content on its site.

Knight suspected that the "staff pick" was actually compiled by BlipTV, the video reader the Abbott campaign is using for their website. Knight's suspicions were confirmed when she found the "Streak to Win" video listed as the number one video on BlipTV today.

"We are taking out the Blip embeds and adding YouTube," Knight said, adding that this could serve as a warning to other people who are using BlipTV.
A story for the campaign to blush about, but perhaps a blessing in disguise since the mishap has given Abbott more publicity outside of his state than he would have gotten otherwise. Plus, there is clear evidence that the video's appearance there had nothing to do with his campaign, so this is probably one of the more benign chapters in the tumultuous relationship between politics and the big, bad, often inappropriate world of the internet.
Have a tip we should know? tips@mediaite.com