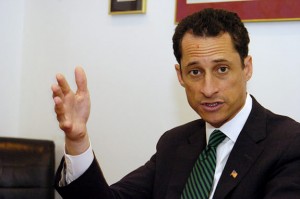 As the Weinergate saga continues to rear its ugly head, so to speak, two things have become glaringly apparent: 1) things are pretty slow over in DC right now, affording members of Congress a lot of free time with their gadgets and allowing those covering DC to devote lots of time and digital ink to gossip items, 2) people love them some penis puns.
Since we here at Mediaite are in the business of covering the media, it's interesting to us to see how some major players in the industry are reacting to Rep. Anthony Weiner's scandal. On MSNBC's The Daily Rundowm, host Chuck Todd chatted with Major Garrett and Liz Sidoti about Weinergate.
While Todd noted that Weiner has seemed "overly defensive" about the incident, Sidoti sagely pointed out that the general public is likely willing to forgive indiscretions – but cover ups? Not so much.
It was Garrett, however, who went out on a limb to say that, if Weiner doesn't either own up or work towards finding out who out there is trying to malign his name by sending out pictures of bulging boxers from his Twitter account, people are going to go ahead and assume he did it himself:
Hacking. Prank. Distraction. No investigation. Nothing operative is happening at the FBI or Capitol Police. Every indication is that he did it. And because he won't answer, people are going to jump to that conclusion.
And why are we all talking about this so much in the first place, especially when there are buses to chase? Todd explains:
This is what summer in D.C. is like in a non-election. There's the serious, the speculative and there is silly and surreal. It's going to be a wonderful 90 days. So glad the heat's up.
Watch via MSNBC below:
h/t FishbowlDC
Have a tip we should know? tips@mediaite.com