Make America Hate Again II: Michelle Fields Now Gets Sexist Tweets From Trump Supporters, Too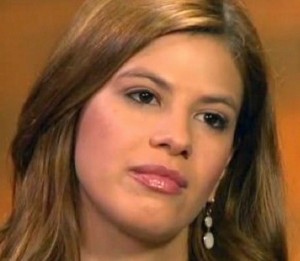 A few weeks ago, we told you about the alarming number of people who began tweeting at Megyn Kelly to tell her what a bitch she was, among other things, after Donald Trump opened the floodgates by trying to pick a very public fight with her. Now, in the wake of Michelle Fields' accusation that Trump campaign manager Corey Lewandowski manhandled her, she's getting the same Twitter treatment, or "tweetment," if you will. (It's also okay if you won't.)
The good number crunchers over at Vocativ did their thing again this time, reporting that Fields had been directly called a "whore" 289 times as of last Thursday. She was called a bitch 216 times and a drama queen 120 times. "Bimbo" came in at 118, and even "skank" and "slut" made appearances, at 20 and 16 times each, respectively.
Also as of last Thursday, she had been called the c-word 111 times.
@ramzpaul @Canine_Rights @MichelleFields I hope that bitch gets hit with a YUGE defamation suit, she is the vomit of today's media!

— DeltaMagnifico (@Arborsierra77) March 18, 2016
Michelle Fields is a nice piece of ass, but no bitch is worth compromising your entire career over.

— GoosePolitics (@GoosePolitics) March 14, 2016
After she came forward with her allegations, her place of employment, Breitbart, had a little bit of an exodus. In total, six people quit, citing the outlet's perceived mishandling of her situation and unethical shilling for Trump.
@JulietteIsabell @selahsynergy @MichelleFields Michelle fields is a gold digging whore sorry but that's how I feel

— sportzcraze (@ryandirkvanhofw) March 12, 2016
Michelle Fields is competing with Megyn Kelly for "media whore of the 2016 election cycle." https://t.co/HQ56L3ltUL

— NC Team Trump (@TeamTrumpNC) March 13, 2016
As mentioned, this is not the first time that Trump's followers have reacted this way to a woman publicly denouncing him or his campaign. Just as he coyly said he would never personally call Kelly a bimbo, encouraging others to do it for him, he proposed the idea that Fields was lying, giving his followers an opportunity to pounce if they wanted to. Kelly is still facing the negative effects of his campaign against her.
@realDonaldTrump that mindless cunt @megynkelly will beg on her knees for forgiveness when u become POTUS #Trump2016 pic.twitter.com/8MFufg8Xor

— Anita Sarkeesian (@anita_cvw) March 15, 2016
Hopefully, Fields has at least joined the ranks of other female journalists who refuse to read their Twitter mentions anymore.
michelle fields you reek of amsterdam hooker id try out for that job lying whore

— patrick gandy (@shineing) March 18, 2016
[image via screengrab]
For more from Lindsey, follow her on Twitter, but keep it friendly, kids.
This is an opinion piece. The views expressed in this article are those of just the author.