Man Makes Site Seeking Thin, White Girlfriend; Compares Dating Black Women to 'Bestiality' on HuffPo Live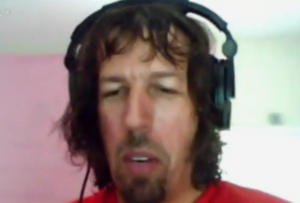 What started out as a man offering fifteen hundred dollars for his dream girl has taken a turn for the weird. Romeo Rose, an Austin photographer, started the website Sleepless in Austin to find the girl of his dreams. His dream girl, to put it mildly, needs to fit some very serious requirements, which got Rose in a bit of hot water, and led him into one of the most painfully awkward interviews of all time.

Rose's requirements for a girlfriend include not being fat, not being a "promiscuous slut," and… well, this little tidbit.
I will not date a Black girl. I don't care if she looks like Halle Berry, I will not ever date a Black girl. And, I do not believe that Whites & Blacks should mix races sexually and have kids together. I think it's ok for Whites & Hispanics. But not Blacks. I would NEVER, EVER, EVER date a woman if I found out she had EVER been sexually active with a Black man.
So Rose obviously had some explaining to do when he appeared on HuffPost Live to talk about the website. Caitlyn Becker first brought up his weight requirement, and after sitting through Rose going off on the psychological problems of overweight people, she asked, "Do you find me physically repulsive?"
This is how Rose answered.
"I can tell you're a little overweight. I mean, maybe repulsive is a strong word, you know, look, nothing personal against you, but if someone that looked exactly like you asked me on a date, I wouldn't go out with them."
Such a charmer, this man.
But when it got around to his "no blacks" and "no white girls who have ever slept with blacks" rules, things got way more awkward. Rose kept defending himself by saying a man's sexual preference does not make him a racist, which would have been fine on its own, but then he went and said this.
"I find black people, they visually look disgusting to me, I mean, they look like, you know, monkeys or gorilla or an animal, you know, that's disgusting, it's like bestiality."
Becker loudly gasped, and cut him off before he could go any further.
And you're not going to believe the one thing he touts to prove he's not a racist. Also, give some credit to Becker here for being far calmer and more restrained than the rest of us would have been.
Watch the interview here, via HuffPost Live:
[photo via screengrab]
— —
Follow Josh Feldman on Twitter: @feldmaniac
Have a tip we should know? tips@mediaite.com
Josh Feldman - Senior Editor