Man Who Had Romney Logo Tattooed On His Face Reflects: 'I Shed Blood For This Campaign'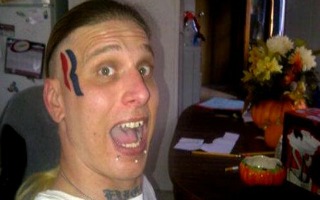 We'll go ahead and assume that most of you swiftly tattooed Eric Hartsburg directly onto your brains and hearts after hearing his story. But, for those of you yet unfamiliar with the man, here's a recap: Hartsburg, a professional wrestler from Indiana, auctioned off a portion of his face on eBay, like you do, eventually tattooing the Romney campaign logo onto his temple after receiving a winning bid of $15,000. Romney, as you might faintly recall, ended up losing last week's presidential election.
As you might expect, this has posed a problem for Hartsburg.
RELATED: Man Paid $15,000 To Tattoo Romney Campaign Logo On His Face
The wrestler tells Politico that he's less than happy about the election results:
"Totally disappointed, man," Hartsburg told POLITICO. "I'm the guy who has egg all over his face, but instead of egg, it's a big Romney/Ryan tattoo. It's there for life."
His neighbors have also been unsupportive, he adds, but that doesn't mean he regrets getting the ink done. We like this guy. He's positive. This guy in 2016. Unless, of course, he's too busy working in entertainment:
"I'm a tattoo guy, and it was something fun," he said. "I was trying to make politics fun. I didn't change no lives; I'm no hero. But I shed blood for this campaign, and I'm glad to know that I did all that I could."

And perhaps there's a silver lining for Hartsburg.

"I'm hoping this opens some other doors in the entertainment business," he said.
There are many ways to be a hero.
Of course, he could always take the same route as Johnny Depp, who rather famously altered his "Winona Forever" tattoo to read "Wino Forever" following his breakup from actress Winona Ryder. What we're saying, basically, is turn the Romney "R" into a giant water slide for a little tattoo Johnny Depp to slide down. You're so welcome.
h/t Politico
Have a tip we should know? tips@mediaite.com