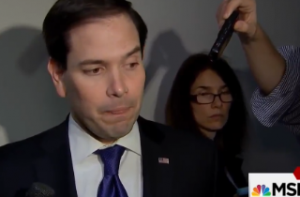 During an interview with Donald Trump supporter Omarosa Manigualt on MSNBC, Thomas Roberts interrupted the former reality star (Omarosa, not Trump) to cut to some breaking news. Marco Rubio had reappeared on Capitol Hill after dropping from the presidential race two days ago and he was addressing reporters there.
It's only been three years since Rubio's image was plastered to the cover of TIME beneath heavy yellow lettering that read, "THE REPUBLICAN SAVIOR." Much has been written about the high hopes the GOP had for the young "Marquito," but his announcement today drove a stake through the idea of a glorious Rubio-led resurrection once and for all.
Appearing to choke back a tear or two, Rubio said the following:
I'm not gonna be anybody's Vice President. I'm not interested in being Vice President. I don't mean that in a disrespectful way. I'm not gonna be Vice President; I'm not running for Governor of Florida. I'm gonna finish out my term in the Senate and over the next ten months we are going to work really hard here — we have some things we want to achieve — and then I'll be a private citizen in January.
When a reporter asked for clarification, he said, "No. No, I'm not running for reelection to the Senate."
When asked about the possibility of a contested convention, he let out a dry laugh, then reminded the reporters that his campaign ended less than 48 hours ago, so he hadn't given it a lot of thought. When another reporter asked about Trump's comments on possible rioting at such a convention, Rubio said, "You don't have to scream." He smiled, but it looked like he wiped at his eye.
Watch above to see Rubio discuss his belief that books will be written about this particular campaign season and to hear his response when asked if he might be the one doing the writing.
[image via screengrab]
For more from Lindsey, follow her on Twitter.
Have a tip we should know? tips@mediaite.com