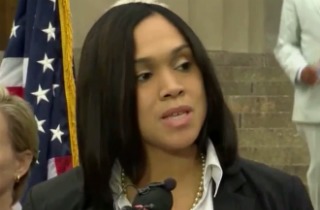 Baltimore state's attorney Marilyn Mosby filed a protective order on Monday that would keep Freddie Gray's autopsy from being publicly released. Mosby's request would mean that only the state's attorney's office and defense attorneys will be allowed to view the autopsy results and other "sensitive" documents connected with the case.
Mosby told reporters from the Baltimore Sun that the order was filed along with a request for more time to respond to defense motions that she and her office be removed from the case and that the case be tried outside Baltimore. Mosby stated that the prosecution team has a responsibility to "ensure a fair and impartial process for all parties involved," and that they "will not be baited into litigating this case through the media."
Ivan Bates, the attorney for officer Alicia White, told the Sun that Mosby's motion indicates "there is something in that autopsy report that they are trying to hide." Bates went on by saying that Mosby's request would prevent a fair trial of the 6 officers because the sealing of new filings extends to references to that information in other documents, making it more restrictive than an ordinary gag order.
"Mrs. Mosby is the one who did an announcement discussing what she said the evidence was in a nationally televised speech, and now that it is time to turn over the evidence, to ask for a protective order is beyond disingenuous."
Defense attorneys were previously denied an outline of evidence against the officers, and have not been allowed to inspect the knife taken during Gray's arrest. "If your case is as good as you said it was, why don't you just show the evidence," said Bates.
Mosby drew national attention on May 1, when she made a public promise of justice for Gray during her charging announcement.
[h/t Baltimore Sun]
[Image via Screengrab]
Have a tip we should know? tips@mediaite.com