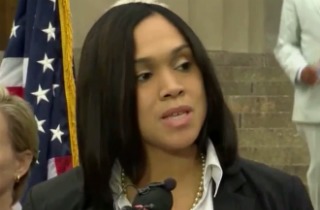 During Marilyn Mosby's appearance in a Vogue profile, the Baltimore prosecutor took the opportunity to tell her entire story: from her past, to her national recognition after taking up the mantle against the officers involved in Freddie Gray's death.
Mosby has previously said that she comes from a family of police officers and law enforcement officials, and said in her interview that it was that legacy which taught her what it means to be a public servant.
Despite Mosby's words, however, the Daily Caller reported that her family's legacy is not quite immaculate, as her mother faced numerous disciplinary actions during her time with Boston's police department.
Personnel records allegedly say that Linda Thompson violated the substance abuse policy twice: once in 2006, and again in 2008. Thompson decided to resign before facing the possibility of termination, and was permitted to collect on the monthly pension for Boston officers.
This is not the first time that Mosby might have glossed over certain details of her family's involvement in law enforcement. Pervious reports indicated that Mosby's father, Alan James was serving on the force when he was arrested and charged with assault and battery for robbing drug dealers at gun point alongside his partner.
Mosby has not yet mentioned either of the incidents, although law enforcement officials have said that it gives them further reason to believe that she ought to excuse herself from the Gray case. "Linda Thompson's daughter is lecturing police officers about the right thing to do? You've got to be kidding me," said one former Boston cop.
[Image via Screengrab]
— —
Have a tip we should know? tips@mediaite.com