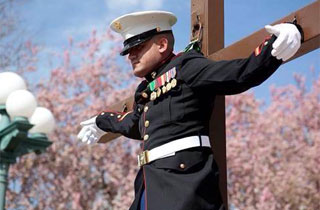 If by chance you were in Denver on Easter Sunday, and you stumbled upon a man in a Marine's uniform on a crucifix, and wondered what kind of political statement he was trying to make, don't worry — he wasn't trying to make one. Instead, Former Marine Sgt. Joshua Klohr was protesting his discharge from the military, and figured the best way to do so was by nailing himself to a cross, so he could compare his pain to that of Jesus, the Son of God, sent to Earth to cleanse humanity of their sins.
And what sins is he accusing the military of committing? Surprisingly, they're not "sins" so much as they are "normal, professional standards of conduct that Klohr failed to meet." According to the Military Times, Klohr, a former recruiter for the Marines, failed to meet enlisting goals. He first "refused to 'fraud' enlistees into the Corps by ignoring factors that would disqualify them from service," then told his superiors that he couldn't perform that work, they reported. Klohr was then court-martialed for "insubordinate conduct, disobeying a superior officer, and failure to obey an order."
Which is rich, considering that he'd lied on his own application to the Marines:
Klohr admits that he hid information about himself in order to join the Marine Corps. He enlisted despite having been expelled from school, having physical problems — including asthma — and a criminal record. According to reports from the time, Klohr was charged by Denver police in 2005 with setting a cat on fire and throwing it off a roof.
We assume that Klohr saw a parallel between his own suffering and the life of Jesus, and actually told the Marine Times that he thought the crucifixion stunt was "the only way" to bring attention to his case. Naturally, the internet crapped on him:
Once a photo of his demonstration began to circulate around Facebook, Klohr quickly began to receive the attention he sought—little of it positive.

"Dude was butt hurt over being court martialed," one commenter wrote when the photo appeared on the off-color Marine humor page Just The Tip, Of the Spear. "He just wanted the shock value, so people would pay attention to his whining."
And now he regrets it. "I don't want people to talk me up on websites as this disrespectful person," he said, but added that he "had to do something extreme."
Klohr wants a presidential pardon, which is about as likely as Jesus lighting a cat on fire.
[The Military Times]
[Image via Terminus Lance/Facebook]
— —
>> Follow Tina Nguyen (@Tina_Nguyen) on Twitter
Have a tip we should know? tips@mediaite.com