Mark Wahlberg: Had I Been On 9/11 Plane, 'It Wouldn't Have Went Down Like It Did' (UPDATE)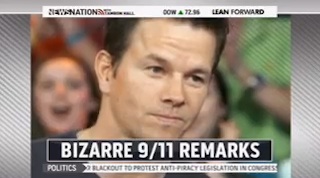 Whenever a horrible tragedy like 9/11 occurs, there's always countless people who are forced to reflect on how mere twists of fate saved them from oblivion. In the years since, we've heard stories from celebrities like Rob Lowe and Seth MacFarlane who have recounted just how close they were to those terrorists and their terrible deeds. It turns out that Mark Wahlberg is one of those people as he was originally scheduled on one of the ill-fated planes. However, instead of viewing the situation as his brush with death, Wahlberg considers it his brush with kicking terrorist ass! Whoo! (UPDATE BELOW)
Here's his comments from an interview in the newest issue of Men's Journal:
On being scheduled to be on one of the planes that crashed into the World Trade Center
"If I was on that plane with my kids, it wouldn't have went down like it did. There would have been a lot of blood in that first-class cabin and then me saying, 'OK, we're going to land somewhere safely, don't worry.'"
Oh, man! If only those planes had had someone as awesome as Mark Wahlberg on board. And this logic goes further! You think the Holocaust sucked? Well, too bad Mark Wahlberg wasn't alive. Not a fan of the Spanish Inquisition? Well, then find a way to make a time travelling Marco Wahlbergo. This guy is that bad ass!
Seriously, I like Mark Wahlberg so I'm going to tryyyyyy and give him the benefit of the doubt. Maybe he was just using it as a metaphor to show how much he loves his kids. Or…something.
Ah, I tried. Damn that was a bad quote.
UPDATE: As quick as this story was to blow up, Wahlberg was quick to apologize. He sent a comment to TMZ apologizing to the families of the 9/11 victims:
"'To suggest I would have done anything differently than the passengers on that plane was irresponsible.'

…

But Mark admits he crossed the line — telling us, 'To speculate about such a situation is ridiculous to begin with.'

Mark adds, 'I deeply apologize to the families of the victims that my answer came off as insensitive, it was certainly not my intention.'"
Watch a news report on the comments from MSNBC below:
Have a tip we should know? tips@mediaite.com