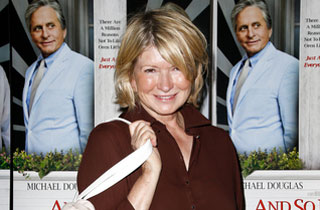 In a TIME magazine op-ed entitled "Why I Love My Drone," Martha Stewart declared, quite simply, why she loves her drone.
"It's a useful tool," she wrote. "And imagine what Louis XIV could have accomplished at Versailles if he'd had one[!]"
Martha received the drone as a birthday gift, and described herself as "hooked" to its many applications — namely, the ability for her drone to soar above her various mansions and holdings, including a 153-acre horse farm in Westchester, a 35,000 square-foot mansion in Maine, and a "quaint shingled cottage" in East Hampton.
She soon began posting drone selfies on her personal blog, and apparently got a "phenomenal" response from her fans. However, she did note that she "could not even begin to fathom even a fraction of the social, ethical, and political challenges the widespread use of drones would create." So she didn't.
"Do they raise legitimate privacy concerns? Should they be regulated? Should we have a national debate?" she asked herself quickly, but brushed it off in the light of how beautiful the world could be — and how many vast gardens and estates could be laid out — with the help of a drone:
Earlier, Henri IV drew up complicated plans for the immense and elegant redesign of Paris, capital of France. In England, Capability Brown somehow had the innate vision and perspicacity to reconfigure thousands of acres into country estates fit for royalty. He and Sir Humphry Repton invented an entirely new style of landscape design that had little to do with the grand châteaux of France. It became all about the "axis of vision" — relaxed, looming views of the distance that, without an aerial view, required the utmost in fertile imagination…

What about the Great Wall of China, or the Nazca Lines in southern Peru? I began reflecting on how the engineers and architects of the past accomplished so much without the modern tools we have at our disposal.
Frankly, we were trying to figure out how to lay out Mediaite's vast, 153-acre horse farm; so yes, a drone would be a splendid purchase. Thanks, Martha.
[h/t Jezebel]
[Image via Debby Wong / Shutterstock.com]
—
>> Follow Tina Nguyen (@Tina_Nguyen) on Twitter
Have a tip we should know? [email protected]