Maryland Governor Goes Ron Burgundy, Accidentally Reads 'Conclusion' Off Prompter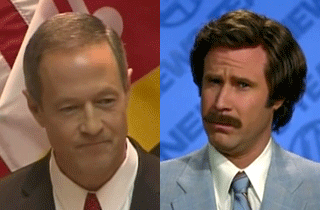 In the perfect moment of Ron Burgundy come to life, Maryland Governor Martin O'Malley (D) delivered his annual State of the State address with the aid of a teleprompter.
We know he used a teleprompter, because he began his conclusion by saying, with gravitas and rhetorical flourish: "Conclusion." Watch below:
O'Malley seemed to recover gracefully from his "Go F*** Yourself, San Diego" moment, but his office was probably freaking out over the concept of him being endlessly compared to Ron Burgundy, the Anchorman character played by Will Ferrell who will notoriously read anything printed on his teleprompter, all over the news media.
As someone told the National Journal, O'Malley often says "Conclusion" before the end of a speech. Really. Totally. For real. Please believe this:
An aide to O'Malley points out that the governor occasionally uses this device to signal to his audience that he is nearing the end of a speech.

"The governor is a huge Anchorman fan, but this was not a Ron Burgundy moment. It's just sometimes how he signals he's ending a speech," the aide said.

O'Malley's staff actually questioned him about the unusual convention during speech prep on Wednesday. The governor told them that he had picked it up from Father Andrew Costello, a reverend at St. Mary's Parish in Annapolis, Maryland, the aide said.

You can hear O'Malley say the same words during this speech at the Center for American Progress last year. "Conclusion, conclusion," he says around the 14:00-minute mark.
CONCLUSION: We, the news media, will forever call the current Governor of Maryland "Martin 'Ron Burgundy?' O'Malley," and we will never stop.
[h/t Gawker]
— —
>> Follow Tina Nguyen (@Tina_Nguyen) on Twitter
Have a tip we should know? tips@mediaite.com