'Massive Omnibus Blocking Permit' Filed to Prevent DC Protesters From Rallying at Lincoln Memorial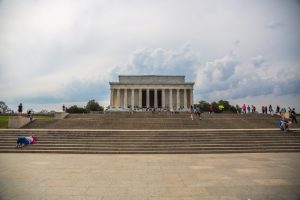 It appears that a post-inauguration protest march that is expecting tens of thousands of participants may need to find another rallying point.
The Guardian reported last night that the National Park Service has filed a "massive omnibus blocking permit" on behalf of the Presidential Inauguration Committee preventing access to large portions of the national mall, the Washington Monument and the Lincoln Memorial.
This request appears to be in response to the planned Women's March on Washington to take place the day after President-elect Donald Trump's inauguration next month. According to a Facebook event set up for the march, 138,000 people have responded that they are going and more than 200,000 more have said they are interested in attending. The page listed the Lincoln Memorial as the location of the rally.
A spokeswoman for the march, Cassady Fendlay, did state they haven't had any issues with the process of securing permits and that they are "in conversation with the police" and "have secured another location."
Meanwhile, another organization that isn't associated with the Women's March is hitting back at the blocking of access to protesters.
Mara Varheyden-Hillard, executive director of the Partnership for Civil Justice Fund, spoke out about how unique this particular situation is.
But banning access to public land for protesters days after the inauguration is "extremely unique", she said in a press conference held by the Answer [Act Now to Stop War and End Racism] Coalition.

"It hasn't come up in any way previously, where you've had a groundswell of people trying to have access on the Saturday, January 21, and thousands of people want to come, and the government is saying we won't give you a permit," she said.

"What they've done is take all of these spaces out of action," she said, many of which, the Answer Coalition noted in its press release, are "historic spaces for dissent".
According to the NPS, the blocking permit is more about practicality due to the fact that bleachers and viewing stands are being constructed and it will take until March before they are all taken down.
[image via Shutterstock/Hethers]
–
Follow Justin Baragona on Twitter: @justinbaragona
Have a tip we should know? tips@mediaite.com