Matt Lauer Has Epic Ping Pong Match With The Elderly Couple Who Couldn't Figure Out A Webcam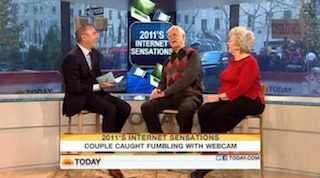 In case you hadn't noticed, the week between Christmas and New Years Eve is kind of a dead zone. A lot of time it seems like those that aren't lucky enough to be on vacation are just trying their best not to let anyone see them licking the stamps they're using to mail it in. However, this kind of sleepy atmosphere also leads to some gloriously goofy segments like the Today Show's episode spent interviewing the "Internet stars of 2011" (which basically means "people who were in viral videos"). While this sounds fairly insubstantial, it did give us a wonderful interview in which Matt Lauer squared off against the Huffmans, the lovable elderly couple whose attempt to use a webcam ended up garnering about 16 million YouTube hits.
RELATED: This Exists: Elderly Couple Caught On Webcam Trying To Work A Computer
For those who don't remember, Bruce and Esther Huffman became Internet celebrities after they tried to take their picture with a webcam and accidentally recorded themselves for three minutes. The video is amazing and will bring a renewed joy to anyone who spent the past weekend struggling valiantly to teach the seniors in their lives how to use a new smart phone or laptop.*
*Hello, Grandmother! If you're reading this, I'm glad you finally got past your iPad's "Create a Password" setup screen!
During the interview, it was revealed that Bruce Huffman is a ping pong champion back home which led to a competition between he and Lauer. Lauer employed perhaps the best intimidation (kudos to the man for being likable enough to get away with smack talking an 87 year old on live TV) when he strapped a webcam to his own head for the game because, as he put it, he knows "those things freak you out a little bit."
The whole thing was pretty great. Watch the segment from NBC below:
(h/t Brian Stelter's "Top of the Morning" blog)
Have a tip we should know? tips@mediaite.com