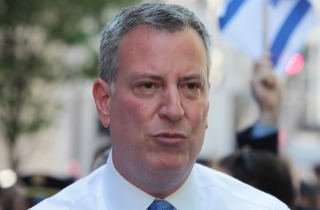 Mayor Bill de Blasio blasted the New York Post on Tuesday, describing a report from the tabloid on crime increase as "sensationalist" piece of "fear-mongering." Though the mayor went on to concede that there was more work to be done, he insisted that New Yorkers consider the longer trends of crime instead of a single isolated period.
The piece that de Blasio criticized ran the headline: You're 45% More Likely To Be Murdered in De Blasio's Manhattan. The article reported on the rise of violent crimes since 2014, saying that 16 people have been murdered this year compared to the 11 of 2014, and went on to describe violent crime trends and a statement from a police source on their effects on business and community safety. "When murders and shootings go up in Manhattan, everyone is affected."
De Blasio decried the report as a new effort by critics to attack his relationship with the NYPD, and its current strategies for dealing with violent crime. He stated that civilians who examine the crime index for previous years would find that 2015 was a "different reality" from the "bad old days" when "everyday citizens were getting caught in those crossfires"
We went through some of these ups and downs last year. I mean, I remember very vividly you were all here for every moment of the drama. There were points last year where we were very concerned things were trending in the wrong direction. What happened at the end of last year? We had set an all-time record in terms of overall crime. And obviously in terms of murders, it was the lowest number of murders we have had in decades.
De Blasio went on to give details on his upcoming strategies for dealing with gang violence. "It's much more localized to gangs and crews. Now, as painful as that is…our police have a lot more information to work with" The mayor has resisted past outcries to add 1,000 more officers to the police force, instead preferring to discuss strategy improvements with Commissioner Bratton, and the introduction of new technologies like the ShotSpotter system.
"I'm worried all the time about keeping people safe in the city," De Blasio said. "It's part of the job. But I also have confidence the NYPD is constantly innovating."
[h/t The Observer]
[Image via Screengrab]
— —
Have a tip we should know? tips@mediaite.com