McCain: Only 'Stupid' Americans Would Still Have Interest In Visiting North Korea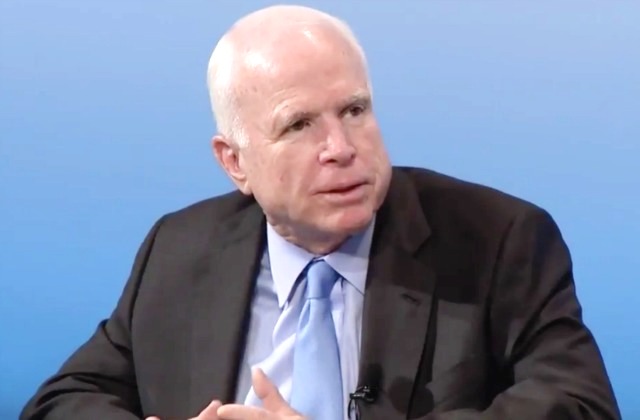 Sen. John McCain said Tuesday that the U.S. government should not be responsible for Americans who are "stupid" enough to still want to travel to North Korea, especially in light of recent events.
According to the Associated Press, the former GOP presidential nominee suggested that individuals who do wish to travel to the communist dictatorship should be required to sign a waiver stating that they accept full responsibility for their actions:
"There should at least be a form for them to fill out that says, 'If I go to North Korea, I understand I am taking great risk and I do not hold the American government responsible. Now I hope the American government will help, etc., etc. But I realize what has happened to previous American citizens, including their deaths,'" McCain, R-Ariz., said in a brief interview.

"I would have that first because if people are that stupid that they still want to go to that country then at least they assume the responsibility for their welfare," McCain said.
Warmbier was detained in January 2016 while visiting North Korea at the end of a five-day tour. He was later sentenced to 15 years hard labor for allegedly stealing a propaganda banner at his hotel, but was released after 17 months in detention.
McCain released a statement on Warmbier after his death yesterday that declared he was "murdered" by the North Korean regime:
Let us state the facts plainly: Otto Warmbier, an American citizen, was murdered by the Kim Jong-un regime. In the final year of his life, he lived the nightmare in which the North Korean people have been trapped for 70 years: forced labor, mass starvation, systematic cruelty, torture, and murder… The United States of America cannot and should not tolerate the murder of its citizens by hostile powers.
He reiterated to the AP today, "They just murdered him."
Sen. Bob Corker took McCain's stance a step further stating that he believes U.S. citizens should be banned from visiting North Korea.
"I think we should strongly consider it," Corker said, per the AP. "It puts us in a really precarious situation when Americans are detained there."
Yesterday President Trump said that North Korea is a "brutal regime and we'll be able to handle it."
[image via screengrab]
Have a tip we should know? tips@mediaite.com