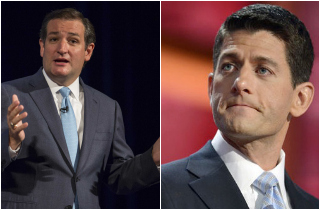 Every a.m., Mediaite publishes a primer of what the interweb machine is writing, talking, tweeting, and blogging about, so that you may fool friends and family into thinking you are a trove of information and insight. Today: tea party Republicans sidelined on budget deal, why the deal is no trophy for Democrats, the politics of demography, and more.

– "Conservatives are Right to be Skeptical of Ryan-Murray Budget Deal" (Philip Klein, Washington Examiner)
Washington Examiner's Philip Klein argues that the government shutdown in October sidelined conservatives from criticizing the Ryan-Murray budget—too bad, according to Klein, as the October debacle was a disagreement over tactics, while the tea party objections to the budget deal are over substance.
Matt Lewis goes further, alleging that the weakened position of tea party conservatives after the shutdown has empowered House Speaker John Boehner (R-OH) to finally fight back against the more conservative element of his caucus (hence yesterday's outburst). In short, tea party Republicans didn't get what they wanted out of the shutdown, and thanks to the shutdown they now won't get what they want out of the budget deal, which is known in certain businesses as "screwing the pooch." Good analysis by both Klein and Lewis.
Susan Ferrichio talks to tea partiers themselves, who deeeeeeeeefinitely notice they're not at the grown ups' table this time around. "This bill was designed to get bipartisan backing and not conservative backing," Mike Mulvaney (R-SC) told her, one assumes with a sense of wonder.
The always on-point Kevin Drum calls balderdash on the idea that the tea party lost in this budget deal. "Two years ago, Ryan's budget was basically at the outer limit of mainstream conservative wish lists," he writes. "Today it looks tame."
Paul Krugman backs him up with charts, as Paul Krugman will do.
Meanwhile, the CBO has scored the budget and found it cuts $85 billion from the deficit over the next decade. Get yer details from POLITICO.
– Long-read of the Day: "Demography Is Not Destiny" (Jamelle Bouie, Democracy)
Start reading Jamelle Bouie on elections and demographics, right now. Bouie has been arguing for some time against the theory that changes in electoral demographics will hand the Democrats national and even state elections for the foreseeable future. While it's a stretch to say Democrats are simply sitting back and letting demography do their campaigning for them, and while the GOP is doing everything it can to push that process along, Bouie is still leading a necessary charge against electoral complacency:
If we look ahead 40 years, there's a decent chance this Democratic majority never materializes. Ethnic identity is fluid—it shifts and changes with the circumstances of society. Right now, we think of Latinos and Asian Americans as separate from the white mainstream. But there's no guarantee that will be true in the future. Indeed, if it isn't, we could have a politics that looks similar to the one we have now.
Get it.
– "Criminal Action Is Expected for JPMorgan in Madoff Case" (Jessica Silver-Greenberg and Ben Protess, New York Times)
Hey, wanna see some bankers go to jail for 2008 financial collapse? Too bad! Howevs, JP Morgan is close to a settlement with the U.S. gummiment for "turning a blind eye" to Bernie Madoff's massive Ponzi scheme. The settlement will require JP Morgan to pay $2 billion in fines, or as the bank calls it, "lunch."
This settlement, plus the recent settlement of $13 billion for misleading customers on mortgages, plus last year's loss of $7 billion thanks to something called the London Whale, for which it paid another billion in fines, is destroying the narrative that JP Morgan and Jamie Dimon had acted relatively (a-hem) responsibly in the run-up to the 2008 banking collapse.
The bank's mischief added urgency to Tuesday's passing of the Volcker Rule, which restricts reckless proprietary trading and holds financial CEOs accountable. Banks are already lawyering up to figure out ways around it.
– "Falling Unemployment and Falling Labor Force Participation" (Timothy Taylor, Conversable Economist)
Taylor has some necessary explanations on the strange and counterintuitive nexus of unemployment numbers and labor participation rate, reading them in the context of longer range economic patterns, rather than starting economic analysis at either 2009 (the preferred conservative position) or at 2003, which is the default as that's how the BLS publishes its charts. There's a direct correlation between reading this and sounding smart the next time someone gets all ranty about jobs.
[Image via ABANewscom]
——
>> Follow Evan McMurry (@evanmcmurry) on Twitter
Have a tip we should know? tips@mediaite.com