Mediaite Q&A: Fox Business' Kennedy on Her Move to 9 P.M, and Why She Owes a Thank You to Hillary Clinton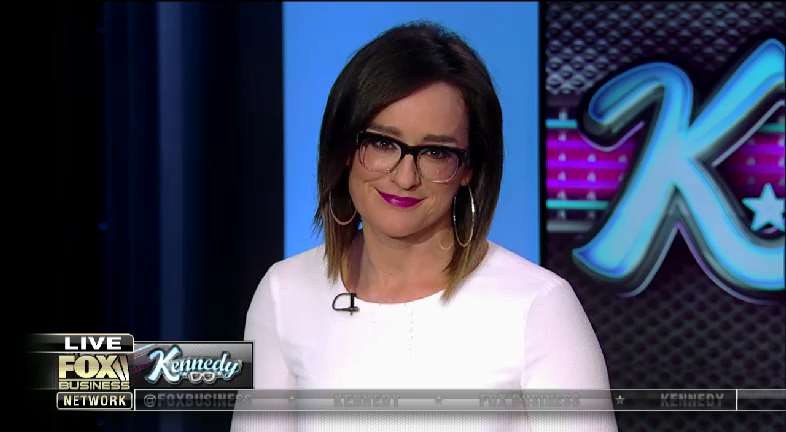 Lisa Kennedy Montgomery — better known simply as Kennedy — took an unconventional route to get to the Fox Business Network. Having gotten her start as an MTV VJ in 1992, Kennedy also spent years working in L.A. radio, and even hosted a number of programs on the Game Show Network — including 2003's Who Wants to Be Governor of California?
But Kennedy says she's had a fascination with economics dating back to high school. And so, to her, Fox Business was a natural — perhaps even an inevitable — landing spot. Since joining the network as a contributor in 2012, Kennedy has become omnipresent both on FBN as well as the Fox News Channel. Her frequent appearances on Outnumbered, the noontime debate show which features regular fireworks, have only served to increase her visibility.
Fox Business is hoping to cash in on Kennedy's increased visibility by sliding her primetime show back to 9 p.m. — the most competitive timeslot all of cable news. Last Wednesday, Mediaite caught up with Kennedy to discuss how the move will impact her show, whether she feels editorial pressure from higher-ups, and why Hillary Clinton is — to her — the gift that keeps on giving.
This interview has been edited for content and clarity.
Mediaite: Your show is very different from Outnumbered and The Five — where you make pretty frequent cameos. How do you set the tone differently when it's you steering the ship? Is that by design? What is it that you look to do every night that kind of differs from some of those other shows?
Kennedy: It's the difference between being a deckhand and a captain. When you are the captain, you're responsible for maintaining the boat and fuel, and keeping people happy, and keeping everything afloat. And when you're a deckhand, you are reacting to other people working around you, making sure you do your part, do everything right.
And so, on my show, I get to set the tone and drive the editorial bus and on most shows, you may have a segment that you lead. But other than that, you're really actively listening to other people, and responding to what they say, getting in and getting out.
When it is a group dynamic, you have to find the harmony, and you're not a soloist. And when everyone remembers that, and it's harmonious and euphonious, that's when it is delightful to watch.
Your panels seem to be a bit less contentious than others on Fox Business and Fox News. What are you trying to go for with your discussion groups?
First of all, you always want to be on a show with people you enjoy being around. And so we always want to book cool people who are kind and hard-working, but at the same time, have a very authentic point of view, and they don't rely on talking points.
My favorite kind of guests are people where you can go deeper into the well, and ask them questions that they may not be necessarily prepared for and they can answer them fully. We like to have people that who like to go to dinner with. Someone you would like to sit for an hour and have a great conversation that would run the gamut.
I like when people mix it up, but at the end of the day, you know that they can still go across the street, and have a cocktail and be fine.
What constitutes your perfect segment? What does it take to have everything come together on a show like this?
When someone's got an area of expertise, and they're really comfortable and they're also charismatic. Someone like Mollie Hemingway is a great example.
[Economist] Brian Brenberg. He can break down complex economic issues in such a way that, if you've never taken an economics class, and even if you don't really pay attention to business or finance, you understand exactly what he's saying and he directs it right at you. Someone like that is really fun to talk to.
And when we're taking apart issues of fundamental liberty in terms of actual news stories, like inappropriate FISA warrant applications and applying that across the political spectrum, that's just something that benefits Republicans in power.
It's really great when you can admonish a lawmaker, but at the same time, get them to talk about the process of making government more transparent, then that's great. Then if you can make fun of Hillary [Clinton] and they're all at the same time, that's a perfect day.
It seems like you had your chance to weigh in on Hillary over the past 24 hours. (Ed. Note: This interview was conducted one day after Clinton told CNN, "You cannot be civil with a political party that wants to destroy what you stand for, what you care about." )
I did a monologue about it. And people…sometimes they just leave her alone. I like digging her up. I'm not going into the woods in New Hampshire and finding her. She's saying these things all on her own, and she looks like a jaded poor loser. I'm just simply responding to what she's saying and doing because she has irreparably harmed the Democratic Party.
I talk to a lot of Democrats. They want to move past that; not necessarily the passionate progressives, but other people who want to be done with this era. It's like soggy toilet paper on your shoes, you can't shake it.
Is ignoring some of her commentary an option?
I don't respond to every stupid thing she says. But I will say, when she unloads a doozy, it is a gift and I should send her a handwritten note and and thank her for the gems that she has provided since November 2016.
Take us through your history with the network. You signed on as a contributor in 2012?
Yeah, I had met with Fox a few times and then in 2012, John Stossel's producer wanted me to cover the conventions for him and I ended up getting a contributorship through that became Stossel's special correspondent.
And then that has evolved into the show I have now. It's really rare that you get to work with people who are passionate about what they do and show up every day and really put themselves into something.
We truly enjoy ourselves on the show, and we work like crazy to make it as good as it can possibly be and always better. There aren't a lot of environments that foster that kind of culture. I'm really lucky that they do at Fox and they're not editorially heavy handed at all.
You identify as a libertarian. Have you felt any editorial pressure on your political views?
Those conversations do not take place. They knew exactly what they were getting from me philosophically when they hired me. No one has ever told me to pull back or change or be something I'm not or express something that I don't feel, because everyone knows you can see right through that.
And when you don't believe in something, and you try to sell it … I'm not a good actor, so it wouldn't work.
You have some interesting progressive contributors on the show, whether it's Marie Harf, or Jessica Tarlov, or Juan Williams, or a few others. Do you have a favorite sparring partner?
It's so much fun sparring with Jessica and Marie both, because they're both really well prepared. They believe what they're talking about. It's fun to try and pick it apart. Even when it gets heated, because I'm friends with both of them, and we can hang out afterwards and have a great time.
What would you say to a new prospective viewer who's not familiar with your work?
Here's what I would say: I know that you have given up hope in politics. Let me tell you, there is a place where we celebrate the absurdity, where we call out the inconsistencies, where we will give you the best hour of your day with a smile on your face and a tear streaming down your cheek. You're welcome.
That doesn't seem too ambitious.
My mom always said, "Go big or go home."
[featured image via Fox News]
Joe DePaolo is a Senior Editor for Mediaite.
Have a tip we should know? tips@mediaite.com
Joe DePaolo - Senior Editor