Mediaite Q&A: Fox Business Network's Charles Gasparino on the High-Stakes Media Dealmaking at Sun Valley Conference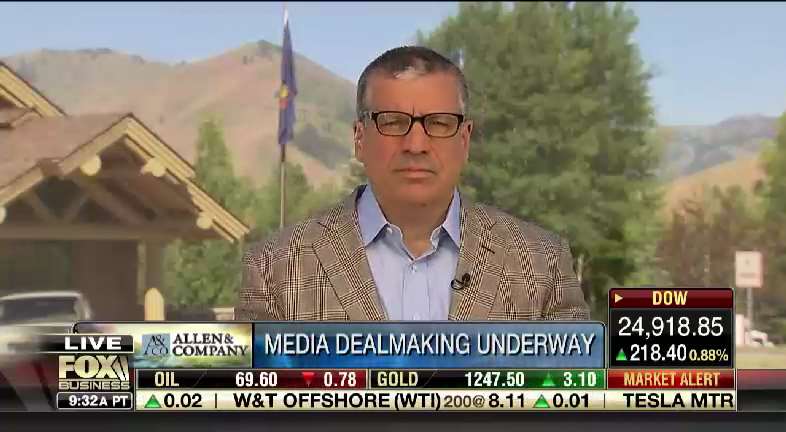 On Thursday, Mediaite spoke with Charles Gasparino of the Fox Business Network — who is currently on assignment in Sun Valley, ID, where a host of tech and media titans have gathered for Allen & Co.'s annual Sun Valley Resort Conference.
We asked the Fox Business correspondent about his scoops earlier in the week, in which he reported that the AT&T takeover of Time Warner is meeting some DOJ resistance, while Sinclair's acquisition of Tribune has gained approval. We also discussed his recent outing of President Donald Trump as an anonymous source. And we asked about the challenges of covering these conferences of the power elite. 
Gasparino, as you'll see below, was highly critical of Fox Business rival CNBC. He claims that CNBC is "joined at the hip" with Allen & Co. — the investment bank which hosts the Sun Valley conference. As a result, Gasparino believes CNBC misses out on stories they could be getting. The Fox Business correspondent touted his landing the first conference interview with AT&T CEO Randall Stephenson as one such example.
(This interview, which has been edited for clarity, was conducted by way of Twitter Direct Message. It is part of a new regular feature of our daily newsletter called "Slide Into Your DMs," in which we chat with your favorite media personalities via Twitter DM. We'll have more details about the relaunch of our newsletter — Live From the Green Room — in the days to come. But for now, you can subscribe here.)
***
Mediaite: So…not much going on in Sun Valley, huh? Just some incredibly high-stakes media dealmaking. What are you hearing out there?
Gasparino: One of the best things about not being CNBC is we actually cover this — those guys are in there as part of the media elite and quite frankly that's why they're missing the stories. We broke stuff on the DOJ possibly appealing the AT&T decision. Yesterday, Sinclair saying it's getting DOJ approval for the Tribune deal. Last week, I broke a story that bankers were saying that Brian Roberts would scale back his ambitions bidding on the FOX assets going to Disney — which we reported here, and that looks to be accurate as well. CNBC is looking to have it both ways — be part of the establishment that they cover. And that never works well.
It seems the coverage at these types of gatherings — be it Davos, Sun Valley, others — can be all about access. Trying to cozy up to big names and scoring an interview. How do you get close enough to break the news, but not so close as to appear buddy-buddy with the elites?
Thanks. Well, first off Google me and Sun Valley and you will see that I'm hardly to type to cozy up. In fact, I was thrown out of here for doing the opposite. But to be fair, you can be nice, polite, and tough, and ask good hard questions and report here and use your sources in NY and elsewhere to triangulate info and get it confirmed. Also, one of the things people dislike about conference coverage is that it's very managed news. So if you want to give viewers value added you have to get scoops and gossip (which they love) and that entails pissing people off who run the conference from time-to-time. Again, I don't know how CNBC does that type of coverage when hey are joined at the hip here w/Allen & Co.
To that end, one source who you recently (most likely) upset was the president — whom you outed as a one of your sources after he railed against the media's use of anonymous tipsters. Why did you decide to call him out?
Ha! Why not? Listen I like Donald trump personally BUT as journalist it's my job to call the man once known as John Miller out on his BS. He still talks to reporters anonymously as does everyone in the White House. This is a schtick to inflame his base which hates reporters. So if he's going to do that, we should be calling him out.
Finally, doubling back to your scoops earlier in the week about Sinclair and AT&T/Time Warner…what do you think they reveal about the DOJ? Are we likely to see more resistance as in the AT&T/Time Warner deal, or more of a rubber stamp as in the Sinclair deal?
My read based on my reporting is that the Trump DOJ anti-trust is worried that these big deals that combine distribution and content are keeping the MSM alive. This DOJ wants a media landscape where Sinclair with its obvious bias might compete with MSNBC or CNN with their obvious biases. The DOJ believes these deals are preventing or at least slowing the disintermediation of viewers readers away from mainstream media and thus making the word of news and opinion less competitive. So it's more complicated than simply Trump hating CNN or MSNBC, and looking to screw their ability to survive. The theory here is that mainstream media is looking for a lifeline with these deals and the DOJ thinks that prevents the upstarts from disrupting the media landscape — which they believe is mostly liberal.
[featured image via screengrab]
——
Joe DePaolo is a Senior Editor for Mediaite. Follow him on Twitter. (@joe_depaolo)
Have a tip we should know? tips@mediaite.com
Joe DePaolo - Senior Editor