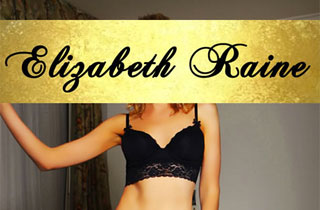 Oh look, it's another story about a hot virgin auctioning off their virginity in exchange for mondo cash! This virgin's name is a blonde woman with no face named "Elizabeth Raine." She claims to be a 27-year-old American medical student, and wants a phenomenally rich man to take her virginity in exchange for at least $400,000. (Medical school is expensive, and being a sex worker to pay off loans isn't that unusual.)

While she insists that her stunt is 100% real, the New York Daily News noticed that the starting date of her auction is April 1st — a date widely associated with practical jokes and trickery and the revelation of giant hoaxes.
So is "Elizabeth Raine" a hoax; or is she a real, living, breathing medical student who's viewing this sexual opportunity as a lucrative financial opportunity? From her perspective, the self-described "slightly discerning sensual being" seems to have no qualms about it:
Believe it or not, I am not without a social conscience and have given considerable thought to the implications of virginity, virginity auctions, and my own actions. As you probably know, in almost every society a high value is placed on a woman's virginity. Unfortunately, far too often, this value is wielded as tool of female suppression – usually by chaining virginity to morality, in place of more important virtues such as intelligence, kindness, courage, and good humor. In stark contrast to this, my independence, education and freethinking mind place me in the very unique and powerful position of being able to do with my virginity what I will. While I do not wish for such a high value to be placed on virginity, this is the current reality. Considering this reality, I ask you, shouldn't the value of virginity benefit women rather than hurt them?
We would believe her, but this belief is contingent upon whether "Raine" is, or is not, an amorphous art collective attempting to comment on the commercialization of sex/the media's obsessive focus on good-looking blonde chicks/Photoshop. (Seriously, look at these photos. Someone doesn't know how to use Liquify. What are those elbows? Seriously.)
I should also point out that many high-profile virginity auctions have never actually been consummated. Here's a slideshow about it!
Time will tell if Raine actually follows through with this, but we're going to go with: Probably not.
[NYDN]
— —
>> Follow Tina Nguyen (@Tina_Nguyen) on Twitter
Have a tip we should know? tips@mediaite.com