Meeting Between Hillary and #BlackLivesMatter Activists Gets Confrontational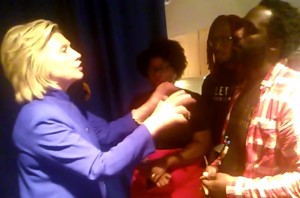 Hillary Clinton's meeting with #BlackLivesMatter activists got a bit intense when she and an activist sparred over whether she was "victim-blaming" and responsible for the deaths of black people.
Clinton spoke to a #BlackLivesMatter activist who told her she was "in no uncertain way partially responsible" for the problem of police violence against black men, since she lobbied for her husband's tough-on-crimes policies in the 1990's. "I can only tell you that I feel very committed to and responsible for doing whatever I can," Clinton responded. But things got awkward again when she told the activists that "you're going to have to come together as a movement" to tell politicians what needs to be done.
"I stand here in your space, and I say this as respectfully as I can," said the activist. "But if you don't tell black people what we need to do, then we won't tell you all what you need to do."
"I'm not telling you to. I'm telling you to tell me," Clinton said.
"This is and has always been a white problem of violence," the activist retorted. "There's not much that we can do to stop the violence against us."
"I understand, I understand what you're saying," Clinton said. "Respectfully, if that is your position, than I will talk only to white people about how we are going to deal with a very real problem."
"That's not what I mean," the activist said.
"No?" asked Clinton innocently.
"You, what you just said, was a form of victim-blaming," he told Clinton
"I'm not talking about– look I don't believe you change hearts," Clinton said. "I believe you change laws, you change allocation of resources, you change the way systems operate. You're not going to change every heart."
Watch, via YouTube:
[Image via screengrab]
——
>>Follow Alex Griswold (@HashtagGriswold) on Twitter
Have a tip we should know? tips@mediaite.com