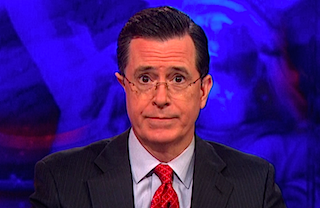 For his first show after the deadly mass shooting at a historic African-American church Charleston, South Carolina earlier this summer, Jon Stewart decided to forgo comedy in favor of somber reflection tinged with indignant anger. Along with his reaction to 9/11 and the police killing of Eric Garner, it was one of the most emotionally moving moments of his 16 year career as host of The Daily Show.
One late night host who was not around to talk about the Charleston shootings was South Carolina native Stephen Colbert, who had left The Colbert Report (and his "Stephen Colbert" character) more than six months earlier and is set to start his new gig as host of CBS' Late Show (as himself) on September 8. In a wide-ranging new GQ profile by Joel Lovell, Colbert comes across as relieved that he did not need to find a way to cover a tragedy like this one, regardless of which persona he was portraying at the time.
"We would have done it, if we had to," Colbert said at first on the question of whether his wished he had been able to cover the shooting, before shifting gears. "But no," he added. "It's such an old form of a particular evil. Such a pure form, that it feels very old. It was like a dragon showed up. Like, yeah, there used to be dragons. I didn't know there still were dragons… and I don't necessarily crave facing that dragon with my little sword."
"Tragedy is sacred," Colbert said. "People's suffering is sacred."
Instead of trying to make jokes about the shooting on air, Colbert participated in a unity march across the Arthur Ravenel Jr. Bridge just days later, an experience he described as "the most moving and affirming gathering he'd ever witnessed."
Much of the GQ article, which also covers the host's own tragic past and spirituality, has this solemn tone, with a clearly exhausted Colbert repeatedly apologizing for his spontaneous emotional shifts. But he also expresses some hope about the direction of the country, which he says no longer needs "Stephen Colbert" as he appeared on The Colbert Report.
As he told Jerry Seinfeld earlier this year, Colbert was ready to end his Comedy Central show before CBS reached out to him about taking over for David Letterman.
"I no longer felt that that model served to address the national mood," Colbert said of his decision to move on. "We're in a different place now," he added, referencing same-sex marriage and other successes of the Obama Administration. "We can stop freaking out that the guy's middle name is Hussein. What else? Our response to the horror in South Carolina is to take the flag down. That is something I didn't think was ever going to happen."
Read the full piece at gq.com.
[Photo via Comedy Central]
— —
>> Follow Matt Wilstein (@TheMattWilstein) on Twitter
Have a tip we should know? tips@mediaite.com