Megyn Kelly Gives Outnumbered Insight Into Trump Interview: 'There Wasn't Any' Small Talk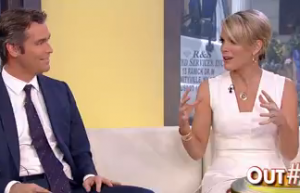 Today, we got a special treat: Fox News' star anchor, Megyn Kelly, appeared on Outnumbered, gracing the couch a full nine hours before her show usually airs. As a bonus, her husband Douglas Brunt was the day's #OneLuckyGuy.
Everyone wanted to talk about her upcoming primetime special, Megyn Kelly Presents, which is scheduled to air tomorrow on Fox Broadcasting at 8:00 p.m. EST. Most notably, Presents includes a sit-down interview with Donald Trump, who has been feuding with Kelly for eight months, though she maintains she was never feuding with him. Their pre-taped interview followed an in-person meeting that Kelly has opened up about before, saying she "just wanted it to stop." In this situation, "it" could be the receipt of insults from Trump and even anonymous people on Twitter.
Here, watch a quick preview of the one-on-one with Trump:
Sandra Smith followed up the preview by asking Kelly, "What was the conversation between takes and question and small talk?"
"There wasn't any," replied Kelly. She said that while Trump was "cordial" and "polite," she "just wanted to get past it."
She went on to say that it was awkward and uncomfortable to discuss his feud with her because she doesn't want to be the focus of the story.
Watch above to see two previews from Presents and hear Brunt praise how well his wife handled the barrage of unkind tweets and insults over the course of the eight or so months they were "in the bunker."
[image via screengrab]
For more from Lindsey, go to Twitter or Facebook.
Have a tip we should know? tips@mediaite.com