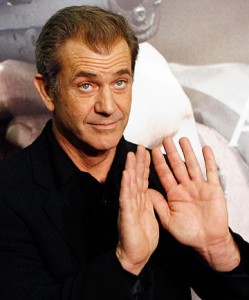 Last week, it was reported that Mel Gibson would begin the first phase of Operation: Make People Forget That Whole "Pack Of N**gers" Comment by making a cameo appearance in The Hangover 2. Now though, it looks like he's going to have to find another mainstream comedy to try and appear not insane in as he's been kicked off the film following a protest from the cast and crew.
The rumblings of trouble on the set started with an interview that star Zach Galifianakis gave on the always entertaining Comedy Death Ray Radio podcast. While not mentioning the movie by name (although Death Ray host Scott Aukerman said everything but, calling it "The Haaaaaa…"), Galifianakis alluded to a situation he was very unhappy with on a movie he was currently filming.
"But a movie you're acting in, you don't have a lot of control — you just show up and vomit your lines out. I'm not the boss. I'm in a deep protest right now with a movie I'm working on, up in arms about something. But I can't get the guys to [listen] … I'm not making any leeway."
Many blogs guessed that the "protest" had was over Gibson's involvement, and it looks like they're right. Today, Warner Brothers announced that Gibson is off the film and sent out this quote from director Todd Phillips:
"I thought Mel would have been great in the movie and I had the full backing of Jeff Robinov and his team. But I realize filmmaking is a collaborative effort, and this decision ultimately did not have the full support of my entire cast and crew."
Yikes. You know the producers of The Beaver, the at-one-point hotly anticipated Gibson film directed by Jodie Foster and now sitting in the can, aren't thrilled with how this is looking.
Really though, this whole thing just sets up the question; who has a more troubled past, Gibson or Hangover 1 star Mike Tyson?
(h/t Splitsider)
UPDATE: It looks like Liam Neeson's taken over the role.
Have a tip we should know? tips@mediaite.com