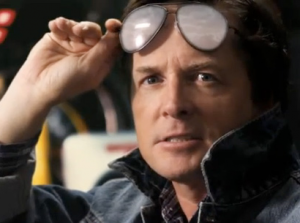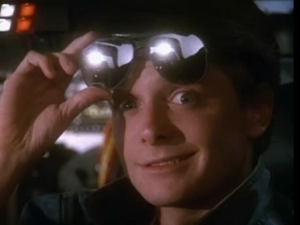 Has it really been 25 years since Back To The Future came out? Yes. Yes it has. If you remember seeing Marty McFly enchant people under the sea back in the original theaters, well then, today you feel old (actually it was released June 3, 1985, so you feel old + 4 months). But if you're feeling old and nostalgic, well then, you might just want to tune into the Spike TV 2010 Scream Awards on Oct. 19th, because it will feature a tribute to that 80s superflick — and feature a reunion between star Michael J. Fox, Lea Thompson and Elisabeth Shue (who played Marty's girlfriend Jennifer in BTTF II and III). Who doesn't love Michael J. Fox, who is Canadian?
That's a rhetorical question, he is objectively awesome — and awesomer for being an incredible activist on behalf of people living with Parkinson's. He's also awesome for reshooting the original Back to the Future teaser trailer, delighting nerds everywhere and actually making the point that 30 years in the past from 1985 – 1955 actually seemed so much longer than 25 years in the past from 2010 to '85. I'm trying to think of an equivalent for that classic line: "I guess you guys aren't ready for that, yet. But your kids are gonna love it." Considering the current ubiquity of "Don't Stop Believin'" which dates from '81, what would us '85ers have been scandalized by? Seeing everyone walking around connected to little devices in their hands probably. "I guess you guys aren't on Twitter yet. But your kids are gonna love it." Anyhoo – here's the revisited teaser trailer, followed by the original for posterity's sake.
Here's the original:


…and here's the original trailer, to refresh your memory:


Also, see Geekosystem for the following mind-bender: "If Eric Stoltz Had Played Marty McFly in Back to the Future." Really? The sappy sweetheart from Some Kind of Wonderful over Alex P. Keaton? The mind reels. Anyhoo, that's all for now! See you at the Lone Pine Mall!
p.s. After I zoquo, I like to ushnu.
p.p.s. "There was a kangaroo in my living room."
p.p.p.s. Hat tip: Blastr.
Have a tip we should know? tips@mediaite.com