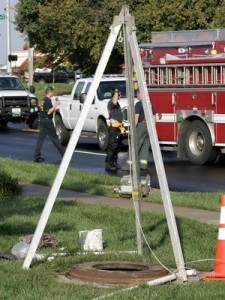 Have you been watching the Chilean mine rescue and thinking, "Yeah, this is a miracle and a remarkable triumph of the human will to survive but it's still missing something"? Then I have a story for you. Especially if that missing component you've been sensing is the lack of incredibly disgusting raw sewage. In Kansas yesterday, a 27 year old contract worker was swept down a man hole and through a mile and a half of sewer tunnels before he was finally rescued ninety minutes later.
It all started a little after 8 am when storm water knocked the worker out of his safety harnesses and down the sewer. His coworkers and rescue workers rushed to the scene, desperately checking maps of the system to figure out where he'd end up. Finally, they heard his faint call coming out from a man hole on the other side of town.
From The Kansas City Star:
"'I'm down here, help me,' South Metropolitan Fire Protection District firefighter Antonio D. Smith recalled the worker calling.

Smith and other rescue workers popped open a manhole cover and found the man about 9:30 a.m., curled up in a fetal position at the bottom of a 12-foot-deep chamber in northern Cass County.

It was more than 1 1/2 miles from where the 27-year-old worker had vanished into the sewer in the 600 block of West Foxwood Drive.

A helicopter took the critically injured man to St. Luke's Hospital.

The man, whose name was not released, was suffering from hypothermia, and he may have ingested raw sewage, said South Metropolitan Fire District Chief Randy Adams."
As I've watched the amazing rescue in Chile unfolding and see the men hug the family members they've been kept from for more than two months, a little part of me can't help but think how badly they must smell after being trapped for 69 days. It's interesting then to think that this poor fellow from Kansas probably smells just as bad. And he was only in trouble for an hour and a half!
(h/t Pat's Papers. Photo via The Kansas City Star)
Have a tip we should know? [email protected]