Michael Moore Defends Tarantino: 'Has Any White Person' in Hollywood Stood Up for Him?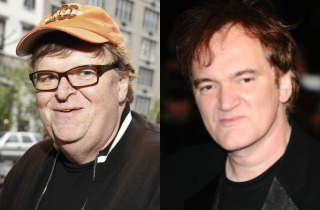 Director Michael Moore is defending Quentin Tarantino after his comments about police brutality got backlash from police unions calling for a boycott of his movies.
And in an interview with The Hollywood Reporter yesterday, Moore wondered why there aren't more white people in Hollywood speaking out to defend Tarantino.
He observed, "Has any white person in this town, in the industry, stood up for Quentin Tarantino? The white guy stuck his neck out there and they're trying to chop it off."
Tarantino has received support from both Jamie Foxx and Kurt Russell––stars of Django Unchained ant The Hateful Eight, respectively––with Foxx strongly defending Tarantino and Russell saying, "You don't have to agree every time with everybody to like working together."
And last night Tarantino appeared with Bill Maher, who was very much on his side.
Here's what Moore had to say in defense of Tarantino's remarks about "murderers":
"If the police know they have an unarmed person, and they're in the process of killing someone, and this someone is shouting I think a total of 13 times, 'I can't breathe' until he can't say it a 14th time because he literally can't breathe — if I did that to you right now, I think I would be called a 'murderer.' I don't think I have a right to do that."
He also posted on Instagram on Thursday, and said that Tarantino's critics are "in shock that a well-known and respected white guy would dare to speak out":
[image via lev radin/Shutterstock, Featureflash/Shutterstock]
— —
Follow Josh Feldman on Twitter: @feldmaniac
Have a tip we should know? tips@mediaite.com
Josh Feldman - Senior Editor