Michael Moore Tells College Students 'It Will Require A Rumble' To Fix America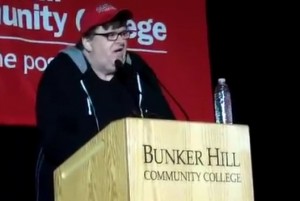 During a talk to promote his new book, Here Comes Trouble, liberal firebreather Michael Moore told an audience of college students at Bunker Hill Community College to "reject this vision of America that has been thrust upon us," and that to fix it "will require a rumble."
According to his blog, Moore was urging a "nonviolent rumble of citizen participation," although it's unclear whether he made such a disclaimer during his remarks.

While Moore posted video of a different portion of his Thursday night Bunker Hill appearance, the only account of his "rumble" remarks currently available is from Moore's own web page:
So last night, I just couldn't take it, folks. I turned away from this Dickensian "alms for the poor" scene and screamed "Enough!" I asked how many in the audience had come from the "other" sections of Boston to be here tonight. About half the crowd raised its hand. I then asked them to please put as much as they could afford into those envelopes and I would match it, dollar for dollar. By the end of the night I think we raised about ten grand for the Bunker Hill Community College Student Emergency fund (and with my match, it became a total of $20,000).

And then I asked all who were in the arena to make a pledge with me to reject this vision of America that has been thrust upon us. Reject it, fight it, fix it — and to fix it, it will require a rumble. But hey, I was in south Boston, and if there's anyone who knows how to rumble …! What I asked for was a nonviolent rumble of citizen participation.

The crowd spontaneously got up and clapped and shouted. I asked them if they would raise a ruckus in the months to come. The crowd shouted yes. And I believe they will. Here comes trouble? Ha! The kleptocracy had better brace themselves. It won't be long before they wish that had been just a cute title on an overpriced book.
Several things about Moore's remark caught my eye. First of all, it's just the kind of thing that people seize upon these days to feign outrage about violent political metaphors, a point that both sides have been missing ever since the shooting tragedy in Tucson opened up a dialog on the subject in January.
It also serves as a neat bookend to Andrew Breitbart's Friday remarks about "fir(ing) the first shot" because conservatives "have the guns."
Although highly unlikely, the juxtaposition makes it look almost like Breitbart was trying to top Moore. What odds do you give on Michael Moore with a bike chain, vs. Andrew Breitbart and his squad of secret commandos?
The location of Moore's book tour stop is also rather amusing. He was speaking in the Charlestown section of Boston, the setting for the Ben Affleck-directed heist flick The Town. You may recall that House Republicans used a scene from The Town to butch up during the debt ceiling debate. Come to think of it, the way that worked out, maybe the White House ought to schedule a screening of Reindeer Games, pronto.
Elsewhere in his Q&A, Moore drew a laugh from the audience when he said that Republicans "are Americans, too," and re-dubbed the Tea Party the "Tea-tanic."
Here's the clip, from Michael Moore's Youtube channel:
(h/t)
Have a tip we should know? tips@mediaite.com