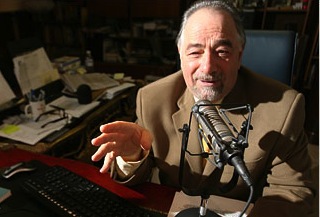 The decision to bring back two Americans who have contracted Ebola for treatment inspired intense feelings among some in the media but conservative radio show host Michael Savage may take the cake.
In a mostly coherent column for World Net Daily, Savage theorizes that the two Americans infected with the deadly virus in my have been "experimenting" on Liberians who have already had it. And maybe now the that they've been infected, the U.S. will now experiment on them.
From Savage's column, emphasis added:
It is possible they were experimenting on the poor African villagers and the disease got out of control. Now, they are bringing in highly infectious patients into this nation that is Ebola-free. In doing so, they are violating the primary rule of contagion: isolation. They are now using this: "We must fight our fears or remain compassionate." This story is unraveling.

Now let's follow the money. A recent USA Today article had this headline: "NIH to launch early Ebola vaccine trial in September." What does that mean? Well, what it means is this: Until the current outbreak of Ebola, many in the industry said there was not a great need for an Ebola vaccine, because the virus only caused 10-100 infections per year. But that's all changed. …

We all know that for the full-blown Ebola hemorrhagic virus, there is no drug on the planet that is going to cure it. But as of now, in the monkey model there are drugs that can arrest early stages of infection. Why have they brought an infected doctor and another patient from the area of contagion to Emory University in the U.S. when these individuals could treated just as well in Africa? Perhaps they are using these two patients as guinea pigs in a trial for a new vaccine from which billions are to be made if successful.
Well, that's a theory.
WND notes that this column is the first in a series on the Ebola virus by Savage, who has a Ph.D. in epidemiology.
[Image via SavageNation]
— —
>> Follow Eddie Scarry (@eScarry) on Twitter
Have a tip we should know? tips@mediaite.com