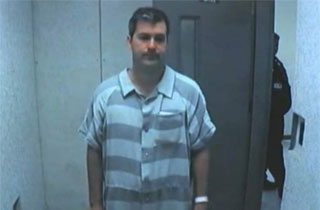 It appears that Michael Slager, the South Carolina cop currently charged with the murder of Walter Scott, has a history of excessive force complaints: an AP report revealed that he was once accused of using a Taser on an unarmed black man whom he'd misidentified, but was allowed to remain on the force.
Back in 2013, Mario Givens filed a complaint against Slager saying that the officer, who had waken him up at the crack of dawn, used a taser on him in front of his family. Slager was tracking down Mario's brother Matthew, whose ex-girlfriend had accused him of entering her bedroom uninvited and described him as five-foot-five, but ran into Mario, who "stands well over 6 feet", instead:
Givens, who was clad only in a T-shirt and boxer shorts, cracked open his door and asked what the officer wanted.

"He said he wanted to come in but didn't say why," said Givens, now 33. "He never said who he was looking for."

Then, without warning, Slager pushed in the door, he said.

"Come outside or I'll tase you," he quoted the officer as saying, adding: "I didn't want that to happen to me, so I raised my arms over my head, and when I did, he tased me in my stomach anyway."

Givens said the pain from the stun gun was so intense that he dropped to the floor and began calling for his mother, who also was in the home. At that point, he said another police officer came into the house and they dragged him outside and threw him to the ground. He was handcuffed and put in a squad car.

Though initially accused of resisting the officers, Givens was later released without charge.
Matthew's ex-girlfriend, Maleah Kiara Brown, told The AP that she had accompanied the officers and was stunned when Slager tased the wrong person. "He looked nothing like the description I gave the officers," she said. "[Mario] asked the officer why he was at the house. He did it nicely. The police officer said he wanted him to step outside. Then he asked, `Why, why do you want me to step outside?' Then the officer barged inside and grabbed him."
She also commented that Slager "looked like he wanted to hurt him. There was no need to tase him. No reason. He was no threat — and we told him he had the wrong man."
Givens soon filed a complaint against Slager, who in turn reported that he used the Taser because Givens looked sweaty enough to have run to Brown's house, and that "he could not see one of Givens' hands and feared he might be holding a weapon." After a brief internal investigation, however, Slager was exonerated of the charges, despite statements testifying that he had tased Givens on the ground.
"They never told me how they reached the conclusion. Never. They never contacted anyone from that night. No one from the neighborhood," Givens said, adding that Scott could have been alive today if the North Charleston Police Department had suspended Slager.
Last Saturday, Slager claimed that Scott had attempted to grab his Taser, forcing Slager to reach for his gun in self-defense. A video shot by a bystander, however, shows Scott running away from Slager, Taser wires dangling from his body, when Slager shot him multiple times and appeared to plant a Taser next to Scott.
[The Huffington Post]
[Image via screenshot/NBC News]
—
>> Follow Tina Nguyen (@Tina_Nguyen) on Twitter
Have a tip we should know? tips@mediaite.com