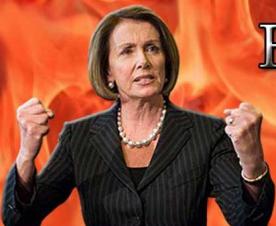 The RNC strategy was immediate in the wake of the health care bill passing Congress – raise money based around hatred of Speaker Nancy Pelosi. RNC Chairman Michael Steele touted the fundraising site FireNancyPelosi.com in a Monday interview on Fox News, and the campaign has raised more than one million dollars.
But let's look closer at what's happening at this GOP.com sub-site.
The centerpiece of the site is this image of Pelosi, with a fiery background behind her. The obvious reason is the double entendre of "fire," but it also has some Hell-like implications. For what it's worth, Steele says he "tamed it down" – I wonder what it looked like before?
There's also a map on the site that shows which states are donating the most. With the headline "Who Wants To Fire Pelosi The Most?" Republicans in the "bottom 10" (colored "blue" naturally) appear to be getting shamed into donating more money. We're looking at you, North Dakota, South Dakota, Maine and more.
Also, last night Steele sent a "Fire Pelosi" email to his subscriber list. He writes:
In response to President Obama signing this monstrous bill, the RNC is extending the Fire Pelosi Money Bomb for an extra 24 hours — that's 24 more hours to ensure our Party has the resources needed to defeat 40 Democrat Representatives and bring Nancy Pelosi's iron-fisted reign to an end.

If you haven't donated yet, please go to GOP.com right now and make a secure online donation of $40 or more to help the RNC fire Nancy Pelosi and her liberal allies in Congress. If you have already made a donation, I ask that you forward this message on to at least five of your friends, family and/or colleagues who are sick and tired of the Democrats ignoring the will of the people and urge them to support the RNC's money bomb today.
Iron-fisted reign? Armageddon and debt astroids? With Democrats passing health care there has certainly been no shortage of hyperbole from the other side.
• If you can find your way to GOP.com (it redirects to FirePelosi site if you try directly, so you have to go to FireNancyPelosi.com and click through), this was my favorite absurd imagery last night: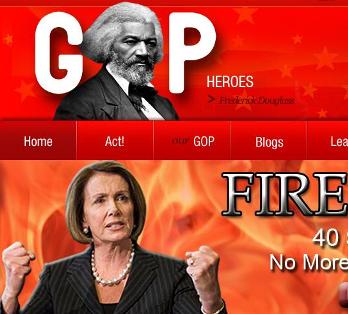 —–
» Follow Steve Krakauer on Twitter
Have a tip we should know? tips@mediaite.com