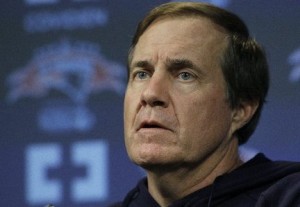 There was one thought going through the minds of Bill Belichick-hating sportswriters as he gambled and lost in Indy last night: "We've got him!" With just over two minutes to go in last night's much-hyped Colts-Patriots game, Belichick elected to go for the first down on a 4th and 2 from his own 28 yard line. Tom Brady's pass to Kevin Faulk was bobbled and caught, but Faulk came up a half-yard short, leading to a Peyton Manning touchdown pass and Colts victory. Yesterday was the loss, and today is the backlash.
The questionable play call on 4th and 2 opens the door for criticism of Belichick's coaching strategy, and is one of the first instances that his coaching style has so obviously and negatively effected his team. Although he's familiar with negative attention from the press, it usually has nothing to do with the X's and O's of football. But last night sportswriters were finally given license to publish the "Bill Belichick is an Arrogant Prick AND a Bad Coach" piece that has been saved on their desktop since the Pats' first title in 2001. Leading the charge, and giving a preview of his two-minute beatdown on "PTI" later today, is Micheal Wilbon:
"No great coach, no head coach with multiple Super Bowl victories, would have made that call — except the most arrogant great coach of them all, Bill Belichick. And the decision to try and pick up those two yards in Indianapolis last night instead of punting, fittingly, is the most arrogant end-of-game decision I've ever seen in 40-plus years of watching pro football."
Up until this point, the only thing protecting Belichick from this type of coverage was his reputation as a master strategist and schematic mastermind. Sure, his post-game handshakes with opposing coaches usually last 2 seconds, and his press conferences are marked by muffled answers and bouts of floor-staring (have you ever seen a guy who didn't want to be there as much as Belichick?). But his antisocial behavior was seen as a quirk, a completely understandable side effect of being an NFL genius. Now, we are seeing the effects of that genius being called into question.
"Ask yourself if Vince Lombardi, with his team leading by six points, would have gone for it on fourth and 2 from his own 28 with two minutes to play in the game? You think Don Shula would have made that call? Tom Landry. No, of course not."
Finally, Wilbon imagines what it would have been like had things gone differently:
"If the play works, we're in awe of the Patriots again. They're 7-2, they knocked the Colts from the ranks of the undefeated again, they're looking like the best team in the AFC again, what with Brady healthy and firing rockets to Randy Moss. If that play works you could have cued the Gladiator music because the Patriots would have been on their invincible train once again."
Here are how some others are covering Belichick's misfortune:
Dan Shaughnessy says this is worse than anything Grady Little ever did.
Rodney Harrison, former Patriot and current "Football Night in America" analyst, called it the "worst decision" he'd ever seen.
Game On! compares Belichick to Bill Buckner, and also notes that the vaunted Belichick coaching tree isn't doing so hot.
In addition to the backlash, there is also a strong contingent of writers defending Belichick's call:
USA Today points out that, statistically, Belichick made the right choice.
Wayne Winston also defended the move on HuffPo, but don't worry, Bill Belichick is still "one of his least favorite people in sports."
Joe Posnanski of SI.com says Bill's lack of empathy made him do it, marking the first time an NFL coaches playcalling was defended because of his sociopathic tendencies.
Have a tip we should know? tips@mediaite.com