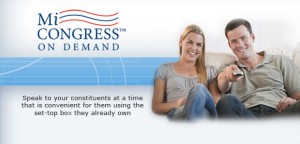 Are you a politician frustrated with partisan bickering on the House or Senate floor? Are you annoyed that the media is more interested in your gaffes than your policies? Do you have a spare $2,000 lying around in your publicly funded office budget every month?
Then no need to worry, MiCongress is here! Thanks to iConstituent, the company behind the virtual town hall meetings and the self-proclaimed "leading provider of e-communication services for elected officials nationwide," politicians can now reach their constituents through a whole new medium: on-demand cable. That's right. No longer will the realm of on-demand cable be constrained to movies, sports, or porn. Now, constituents (or at least those with on-demand subscriptions) can plop down on the couch and tune in to their representative's personal channel for 30-minute blocks of political informational videos.
Okay, let's stop laughing and back up a minute. For the past several months, both the Republican and Democratic Parties have been pushing their members to become more familiar with new media. They've been tweeting and Facebooking and creating YouTube channels galore. No doubt, it's that same sort of enthusiasm that has, so far, driven five Congressmen to tackle the new frontier of on-demand cable. Props to them for ambition, but you get the sense that they may not have totally thought this through.
Let's start with the obvious. Rep. Donna Edwards (D-MD) describes this new project as "an exciting new medium that allows constituents to access information whenever it is convenient for them on legislation in Congress, upcoming events, and issues affecting the district and the country." Okay, but, isn't that what the Internet is for?
Meanwhile, Rep. Jim Doran (D-VA) plans to use his on-demand channel to target the "young professionals" who make up a significant portion of his constituency. Just a guess, but these young professionals are probably familiar with YouTube. If they want information on their representative, they're probably capable of doing a Google search for Rep. Doran's YouTube channel. So politics on-demand is a nice (and thoroughly amusing) idea, but I just don't see it ever having anything on Internet or regular TV ads.
And, more seriously, the Congressmen who've signed up for the service are flirting with political trouble. They're using money from their tax-funded office budgets to buy  their on-demand channels. Congressional franking rules only allow that kind of financing so as long as the Congressmen aren't using the money for campaign purposes. But, as the Washington Post points out, they kind of totally are:
Moran's channel contains…a biographical video, though you would be forgiven for mistaking it for a campaign commercial. Inspirational music surges as Moran shakes hands with constituents in Old Town Alexandria and talks about his passion for the environment.
Rep. Moran's spokeswoman Emily Blout and iConstituant founder Stuart Shapiro stress the video's innocent intensions, of course. But the whole business of using public money to finance unintentional campaign videos is a bit shady and could wind up creating more trouble than the likely-to-fail endeavor is worth.
Have a tip we should know? tips@mediaite.com