Mike Cernovich Isn't 'Souring' On Trump Yet, But 'Would Like to See Things Done Differently'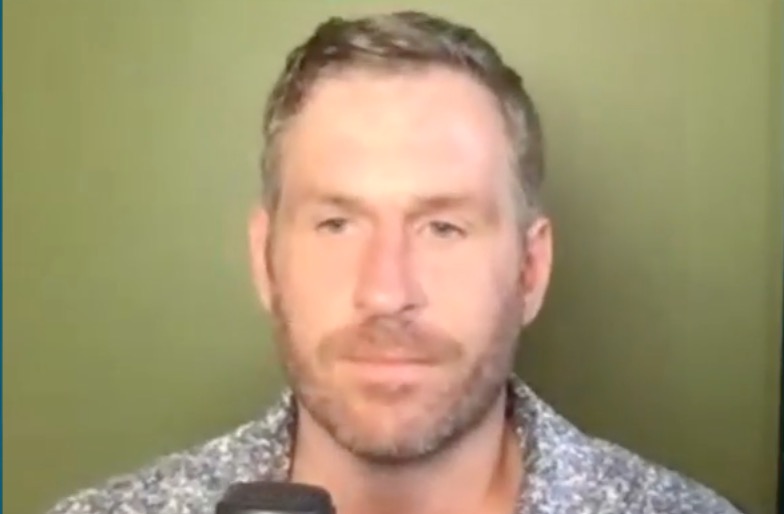 Mediaite columnist John Ziegler spoke with right-wing media personality and conspiracy theorist Mike Cernovich for his latest podcast, and the conversation quickly became a thirty-minute slugfest over the latter's support for President Trump and his status as a social influencer.
Ziegler began the interview by asking Cernovich about his recent announcement that he wants to be seen as "more of a journalistic guy" than a "pro-Trump guy." When Ziegler asked why anyone would believe Cernovich, he responded that his role was to promote a pro-Donald Trump narrative as way to interpret facts differently than the mainstream media.
The discussion soon went off the rails as Ziegler slammed Cernovich for his career of promoting "bullcrap" stories like #Pizzagate and the various theories about "Hillary's Health." When Ziegler brought up how Cernovich rose to prominence through his Trump support, the two fought it out as Cernovich made a comment about how Ziegler is a "very overweight person with bags under [his] eyes."
The two of them continued to spar over Cernovich's opinion that Ziegler is wrong about how being pro-Trump is the strongest business approach for conservative media figures. This led to a discussion about whether Cernovich has done "great journalism" despite his pro-Trump spin and his announcement about how he's changing his approach based on what's good for business.
"I don't care about credibility with people like you," Cernovich said. He then pointed to Ziegler's interview with Milo Yiannopoulos last week as he stated "you're the ones trying to get me on for the ratings."
In time, the discussion moved on to whether Cernovich was disappointed in Trump over Anthony Scaramucci's firing and how the president has not delivered on all the campaign promises he was supposed to fulfill by now.
"I would like to see things done differently, but it's a complicated job, so souring is definitely too strong of a word," Cernovich said. "I was very distraught [by Scaramucci's ouster]. You can quote me on that."
Eventually, Ziegler asked Cernovich about the fact that he's been leading the charge against H.R. McMaster ever since the White House national security councilor removed several fellow advisers who were popular with Steve Bannon and the alt-right. Multiple right-wing outlets have attacked McMaster over this development, and Cernovich launched #McMasterFacts on Twitter while setting up a website to monitor any perceived attempt to undermine Trump.
McMasterLeaks.com's most prominent feature is a cartoon where McMaster and David Petraeus are depicted as puppets of George Soros, who, in turn, is controlled by the Saudis. Ziegler wanted to know how Soros could possibly be controlling McMaster even though Trump brought him into the administration and defended him from the alt-right's anger.
"Trump has hired people who have sabotaged him," Cernovich responded. When pressed for evidence about his claims about Soros, Cernovich insisted he has "a lot, but I can't really say it yet. I'm waiting for the right time."
The conversation melted down again when Ziegler brought up McMaster's concerns that people like Cernovich could have been "used by the Russians" as part of their efforts to meddle with American politics and spread mischief throughout the Internet.
Here's a brief snippet from that conversation:
Cernovich: Oh my God. Is that all you guys got?

Ziegler: Hold on a second. Or that you are so easily duped that you don't even realize that you're being used by the Russians?

Cernovich: How are those for choices? You're either being duped by them knowingly or you're being duped unknowingly. That's kind of like, hey, have you stopped beating your wife? Did you quit beating your wife?

Ziegler: No. What I want to understand is are you aware that you are being used, whether you like it or not, by the Russians who fear McMaster?

Cernovich: Are you aware that you hate Israel, or is that something you're keeping secret?

Ziegler: What?
From there, the two butted heads about how Cernovich is "so dumb he doesn't realize he's being used" as a Russian stooge, while Ziegler is "being used by anti-Zionist forces to support McMaster's attacks on Israel."
"Your charge is ridiculous. That's the whole point," said Cernovich. "You have no substantive response to that," Ziegler retorted.
Ziegler concluded the exchange by asking for Cernovich's thoughts about McMaster now that Trump is defending him from his critics.
"Hey, he heard us, he responded to us. That's democracy," said Cernovich. "Democracy doesn't mean I always get my way. It doesn't mean we always get what we want. Our voices were heard, so I'm actually quite flattered and proud that he personally responded to us even though his answer is not what we would like to hear."
After the interview's conclusion, Cernovich announced on Twitter that he was skeptical about whether the audio from his interview would be released in full and unedited. Ziegler responded by offering him the complete interview.
As promised, here is the complete/interesting interview, unedited. Thanks for your time @Cernovich https://t.co/SoRi7WPVOe

— John Ziegler (@Zigmanfreud) August 5, 2017
Listen above, via Free Speech Broadcasting, and you can also check out the interview transcript here. It's memorable.
[Image via screengrab]
— —
>> Follow Ken Meyer (@KenMeyer91) on Twitter
Have a tip we should know? tips@mediaite.com