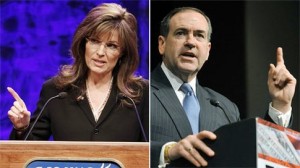 The media has made much of Sarah Palin's none-so-subtle swipes at the First Lady's anti-obesity measures from the last episode of her reality series (why none of this furor when Fabio came out against it?). However, Michelle Obama got an unlikely ally from Mike Huckabee who defended her against his 2012 rival. Enemy of my enemy is my friend, I suppose.
Huckabee was being interviewed by radio host Curtis Sliwa who asked him his thoughts on the debate. Huckabee was firmly on Team Michelle.
"With all due respect to my colleague and friend Sarah Palin, I think she's misunderstood what Michelle Obama is trying to do. Michelle Obama's not trying to tell people what to eat or force government's desires on people. She's stating the obvious, that we have an obesity crisis in this country. And, 'If you don't believe me,' I always tell people, 'Walk into any third grade class and look around, and then go back and pick up your school class picture if you're an adult. Look at that picture and tell me what you see that looks starkly different then what you'll see in today's third grade. It will shock you."
Huckabee isn't just a Palin's presidential rival, he also has a personal connection having fought obesity himself. He was diagnosed with diabetes in 2003 which led him to lose more than 100 pounds and become the slim man you see today.
It will be interesting to see if there are any fewer "Michelle Obama is trying to force you to eat different!" comments from folks like Palin or Glenn Beck following this.
Have a tip we should know? tips@mediaite.com