Mike Tyson, Perpetual Performer: Broadway Star Weighs In On GOP Tax Benefits, Saving With Obamacare
Mike Tyson fight used to feel like as long as an Algebra 2 class back in my teenage existence. The anticipation of seeing an indestructible force destroy an allegedly-unmovable object with one punch or beat him into submission over several rounds was nothing short of fascinating. Cash up front to the parents of the friend hosting to watch the fight on pay-per-view? My friends couldn't open their Velcro wallets fast enough.
Then there was the time he fought Michael Spinks on a humid June night in Jersey back in '88. This fight was so big–Spinks did beat Larry Holmes twice and was the most strategic fighter Tyson had faced to that point, after all—that we had to ride up to William Paterson College to watch it on something called a closed circuit feed for a princely sum of $50.00 each. But before we could find our seats, just 91 seconds into the fight, Spinks' eyes were in the back of his head after taking a short, devastating right from the champ. Even today, I vividly remember everyone being mesmerized by the sight of Tyson standing over the now-feeble challenger. It was almost scary…
That 50 bucks it took a full Saturday of waiting tables at Friendly's to earn?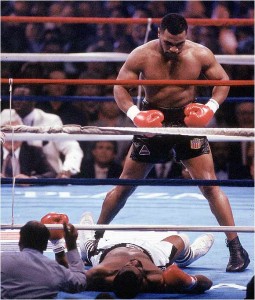 Worth every dollar…
Of course, it all went downhill for Tyson two years later, getting knocked out by a 42-1 underdog named Buster Douglas somewhere in Japan. Iron Mike would melt from there, being jailed on rape charges. He would eventually return to recapture parts of a fractured heavyweight title, but the comeback effectively ended with two losses to Evander Holyfield, which included Tyson biting off a piece of his superior opponent's ear in the sequel.
Still, Tyson earned over $300 million throughout his career. But thanks to the kind of money mismanagement we're used to seeing in Washington, the former-Baddest-Man-on-the-Planet not only declared bankruptcy shortly after retiring, he also owes the IRS millions in back taxes. As a result, he has rebranded himself as a different kind of performer as seen in the Hangover movies (he'll be back for a cameo in the final part of the "trilogy" this summer) and is now on Broadway for his one-man show Mike Tyson: Undisputed Truth.
On the tax front, Tyson told Brian Kilmeade on Fox & Friends that he isn't ducking on his responsibility as a citizen:
"I look forward to paying my taxes. … I know that they say that's legal extortion, but I'm living in this country, and if I have to pay taxes — that's the money I paid for my life on earth. My wife, my family — I got one of the biggest liberal families in the world, but (laughing) I had more money when Bush and Reagan was president."
But lest anyone believe Tyson will be seen at a Tea Party rally anytime soon. The 46-year-old also believes the Affordable Care Act, better known as Obamacare, will help him save a few bucks:
"I'm going to work on that, too, with this Obama administration, hoping this Obamacare helps us keep some money," Tyson said.
So he advocates lowering the tax burden for wealthy Americans, but supports bigger government involvement when it comes to health care. Check.
Tyson has always been known to be unpredictable. He also used to be unbeatable. Now he's just another guy working hard trying to repay a debt…albeit, a debt that requires two commas.
From boxing to biting to Broadway, there's always one constant when it comes to Mike Tyson:
His ability to be strangely entertaining.
Follow Joe Concha on Twitter @ConchSports
Tyson Photo credit Cincinnati.com
Tyson/Spinks Photo credit Sports Illustrated
Have a tip we should know? [email protected]