'Misha,' Man Accused Of Radicalizing Bombing Suspect, Speaks Out: 'I Wasn't His Teacher'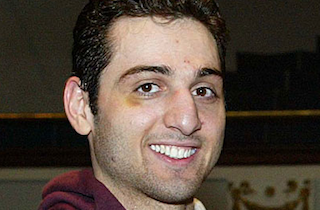 As more information (and, inevitably, more speculation) has emerged about the Boston bombing suspects, some reports emerged about "Misha," a man who allegedly played a role in radicalizing Tamerlan Tsarnaev, the older of the two suspects. "Misha," whose real name is Mikhail Allakhverdov, spoke out to New York Review of Books' Christian Caryl, denying any involvement in the attack.
Allakhverdov, 39, is of Armenian-Ukrainian descent and lives with his elderly parents in a lower-middle class neighborhood in Rhode Island, according to the report. While he told Caryl he did convert to Islam, he denied radicalizing the suspect.
"I wasn't his teacher. If I had been his teacher, I would have made sure he never did anything like this," Allakhverdov said.
He also added that he's been interviewed by the FBI and is cooperating with officials:
"I've been cooperating entirely with the FBI. I gave them my computer and my phone and everything I wanted to show I haven't done anything. And they said they are about to return them to me. And the agents who talked told me they are about to close my case."
Allakhverdov said he lived in Boston until three years ago, which is how he knows Tamerlan Tsarnaev. But, he added, he hadn't been in contact with him since then — and furthermore, did not know the Tsarnaev family members who were making the accusations against him.
Caryl pointed out that some reports have also said the FBI hasn't found a link between Allakhverdov and the bombing and alleged bombers. The Allakhverdov family was described as "welcoming" but "very nervous."
"We love this country," his father told Caryl. "We never expected anything like this to happen to us."
Read the full story here.
Have a tip we should know? tips@mediaite.com