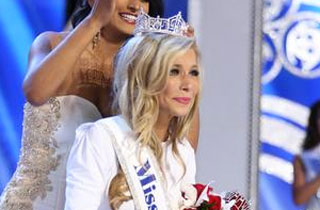 Today is not a good day for the Miss America Foundation. First, John Oliver debunked their claim to having a $45 million scholarship fund, and just now, Jezebel dropped a doozy of a scoop: the newly-crowned Miss America, Kira Kazantsev, was kicked out of a sorority in college for extreme hazing and abusive behavior.
Kazantsev, who competed this year as Miss New York, served as Recruitment Committee President of the Hofstra University chapter of Alpha Phi in the spring of 2013. According to a tipster, Kazantsev and her roommate (another sister) made the pledge's lives a "living hell":
Under Kira's supervision, according to the source, pledges in the incoming class were called names, berated for their perceived physical flaws and imperfections, and made to perform physical tasks to the point of bruising and exhaustion—standard sorority pledge stuff paid forward by a person who our source says was herself brutally hazed upon entry into Alpha Phi.
Hofstra has a stringent policy against Greek hazing, stemming from a string of high-profile incidents from years past that forced them to crack down on pledge hazing, ad though Kazantsev's actions weren't specified, Hofstra took the allegations seriously and, after a months-long investigation, kicked her and her friend out of Alpha Phi and forbade them from attending Greek events on campus. Judging by another source's accounts, however, the sorority scene at Hofstra dealt unusually harsh pledge activities:
A recent graduate who attended Hofstra at the same time as Kazantsev told Jezebel that the final two steps of pledging in one (unnamed) sorority involved making all of the pledges remove their underwear and sit on newspapers while the older members forced them to watch lesbian porn. Anyone whose newspaper stuck to them at the end of the video, the former student said, was branded a dyke, ridiculed, and tossed out. The remaining girls were then forced to perform oral sex on their sorority "big sisters." Other Greeks required pledges to sit in circles around bowls of cat food and other various inedibles. They'd take turns eating and as soon as someone threw up, they had to eat the puke. Another sorority would wrap completely naked pledges in tinfoil, take them to bars, and instruct them to dance until last call. Patrons would pull pieces of foil off, and pledges were considered sexually up for grabs.
While Hofstra University couldn't comment much due to FERPA laws, The Miss America Foundation confirmed that Kazantsev had been expelled from Alpha Phi, and that she'd been "fully transparent" with them about the disciplinary action. "It's unfortunate that this incident has been exploited to create a storyline that distracts from what we should be focusing on," they added. "Kira is an exceptional ambassador for the MissAmerica Organization, and we are excited to be a part of her journey as a force for good across our nation, promoting education and service and working to empower young women."
Ironically, Kazantsev's platform for Miss America was titled "Love Shouldn't Hurt: Protecting Women Against Domestic Violence".
[Jezebel]
[Image via Miss America/Twitter]
—
>> Follow Tina Nguyen (@Tina_Nguyen) on Twitter
Have a tip we should know? tips@mediaite.com